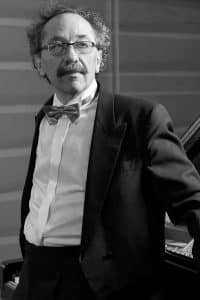 The argentinian pianist Leopoldo Lipstein travelled through all South-America as a child prodigy. At the age of 17, he won the first award at the "National Argentine Competition of Piano".
He is currently professor at the Robert-Schumann-University in Düsseldorf and gives regularly masterclasses in Germany, Japan and Argentina.
His students won international piano competitions in Germany, France, Italy, China, Cyprus and perform concerts all over the world.
His most important teachers were Marcelo Tomassini and Aldo Antognazzi in Argentina and Karin Merle and Pavel Gililov in Germany.
Lipstein recorded over ten CDs including solo repertoire as well as chamber music and concertos with orchesta. For the Bavarian Broadcast (Bayrischer Rundfunk) Lipstein recorded the Concertino by Harald Genzmer for Piano and Strings.
In his career Lipstein performed over 500 concerts in Europe, South-America and Asia and is praised by the critics:
The art of interpretation of the Argentine pianist Leopoldo Lipstein belongs to the most remarkable ones in the field of concerts of our days. Things we take for granted today such as a perfect technique and the sense of style, professionality and musical intelligence are – in an unnoticed way – at the service of a sensitive and loving poetry.
Within his wide repertoire he is a specialist in the music of Bach, Beethoven, Chopin and all the spanish and south-american composers.