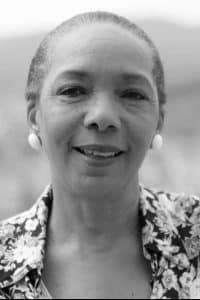 ​The american soprano Klesie Kelly-Moog studied at the Wisconsin University-Madison with Bettina Björnsten and at the Nordwestdeutsche Musikakademie-Detmold with Helmut Kretschmar and Günther Weissenborn.
Intensive concert activity led her through all of Europe and Japan.She has performed with conductors such as Moshe Atzmon, Wolfgang Gönnenwein, Erich Leinsdorf, Bruno Maderna and Hiroshi Wakasugi. Intensive concert activity and Opera engagements led her through all of Europe and Japan.
She recorded songs by composers including Mozart, Schumann, Wolf and Zemlinsky with pianist Werner Genuit. In 1977, she recorded evening songs and love songs (Abendlieder, Liebeslieder und Romanzen) with tenor Ian Partridge, accompanied by instrumental soloists including Hermann Baumann (horn), Dieter Klöcker (clarinet), Karl-Otto Hartmann (bassoon) and again Genuit. The selection of rarely performed chamber music includes "Schlummerlied" (slumber song) by Benedict Randhartinger [de] for soprano, tenor, horn and piano, Franz Lachner "Seit ich ihn gesehen" (after Chamisso) for soprano, clarinet and piano, and his "Laute Liebe" (noisy love) for soprano, bassoon and piano.
Kelly was Professor of voice at the Musikhochschule Köln from 1986 to 2014. she gave vocal work-shops at Musikhochschule in Hannover, Würtzburg, Trossingen and Köln. She gives master classes in Europe and Korea. Several of her students have been awarded at international competitions and are members of leading opera companies in Europe.
She has been a guest professorship at the Musikhochschule in Frankfurt am Main in Germany since September 2020.