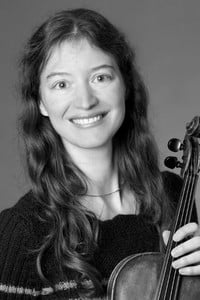 Julia Galic, bor
n in Tübingen, Germany, began her violin study under Professors Dierick, Baynov and Agostini. She completed her artistic postgraduate courses and passed her soloist class with distinction at the Hochschule für Musik und Darstellende Kunst (University for Music and the Performing Arts) Stuttgart under Professor Turban.
She attended master courses under, inter alia, Valery Gradow, Yfrah Neaman and Igor Ozim. She gained experience in the Melos-, Vermeer- and La Salle Quartetts. She was a finalist in the German Music Competition of 1999.
As a soloist, she performed with the Moskau Chamber Orchestra Kremlin, the Zagreb Soloists, the Lithuanian and Polish Chamber Orchestras, the Thailand Philharmonic Orchestra, and the Stuttgart and Tübingen Chamber Orchestras, among others.
With the founding of the "Ensemble Transcendent," the artistic idea of creating thematic program concepts beyond classical concert tradition via variable chamber-music formation could be realized. Her repertoire includes, in addition to traditional solo- and chamber-music works, rarely performed compositions, available as recordings made by the Südwestrundfunk (Southwest Radio) as well as the  Bayrischen Rundfunk (Bavarian Radio).
By virtue of her successful pedagogical activities in her hometown of Tübingen, Julia Galic is professor at the Hochschule für Musik und Theater (University for Music and Theater) Munich.