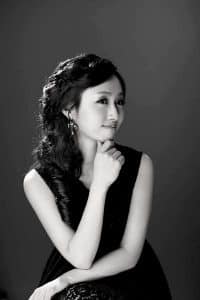 An internationally acclaimed pianist, Jonghwa Park graduated summa cum laude from Seoul Arts High School, Seoul National University, and Eastman School of Music (MM and DMA with minors in Accompanying and Pedagogy).
She was granted full scholarships from Seoul National University and Eastman School of Music, along with a Special Award from the Embassy of the Republic of Korea in the USA.
Jonghwa Park won numerous Korean and international competitions including Eumyoun, Samick, LA Liszt international competition, and Eastman Concerto Competition.
As an acclaimed soloist and chamber artist, she appeared at national and international stages including Kumho Young Artists, Carnegie Hall, Eastman Philharmonia (Soloist), Kumho Art Hall, Youngsan Art Hall, and Seoul Art Center. Jonghwa Park is a member of AYAF ensemble and Ensemble Creo.
Selected by the Korea Arts Council Arko Arts Frontier, she has been continuing 'Pianist Jonghwa Park's Series on All Piano Genres' with a full grant from Arko, since 2010.
Jonghwa Park is currently working at Seoul National University, Yeonsei University, and Pyeongchang International Special Music & Art Festival.
She is also teaching in Yewon, Seoul arts high, Sunhwa middle/arts high, Keonggi arts high, and Kyewon middle/arts high school, Deokwon arts high, and SNUE prodigy school in Korea. Actuellement, elle est professeur à l'Université Nationale de Séoul, à l'Université de Yeonsei et à l'International Special Music & Art Festival de Pyeongchang.
Elle enseigne également à Yewon et dans les conservatoires artistiques de Séoul, Sunhwa, Keonggi, Kyewon et Deokwon ainsi qu'à l'école des prodiges SNUE en Corée.