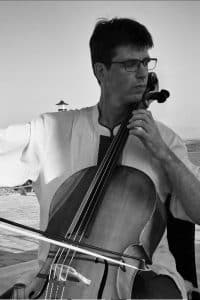 Jeroen den Herder completed his studies with distinction at the Conservatory of Amsterdam with Dmitri Ferschtman, and in London with Christopher Bunting. He then became a leader of the Cello Octet Conjunto Ibérico, a group with a worldwide reputation as a full time cello ensemble, performing around 40 concerts a year.
Den Herder has won several music awards through the years, he won the "Postbank Sweelinck" competition in 1992 and the first prize of the Foundation of the Royal Concertgebouw Amsterdam. He recently won the "Anton Kersjes Prize" as a member of the Ruysdael Quartet.
He's been an active chamber music player, performing with musicians like Janine Jansen, Igor Roma, Anner Bijlsma and Yo-Yo Ma.
He has performed as a soloist in more than 25 countries in great music halls like Wigmore Hall (London), Lincoln Centre (New York), Concertgebouw (Amsterdam) and Palais des Beaux Arts (Bruxelles), performing all major concertos of the cello repertoire by the baton of Friedemann Layer, Ed Spanjaard and Alexander Rudin.
Since 1999 Jeroen has been a member of the "Nieuw Ensemble", one of the leading Dutch chamber music groups for contemporary music. As a member of the Ruysdael Quartet Jeroen has performed in all major concert halls in Holland, receiving much acclaim for concerts at the Amsterdam Quartet Biënnale.
This season the quartet will do a reprice of a tour to Japan and will also perform in several festivals in Georgia, France and England. The Ruysdael Quartet is a founder of its own chamber music festival which is held every year in June. 
He is the artistic director of both the Cello Festival Zutphen and the Cello Academie Zutphen where students can have masterclasses and an after-conservatory year to prepare for auditions, teaching or playing.
Den Herder has been a dedicated teacher ever since he took a professorship at the age of 22 at the Utrecht conservatory. His lessons are based on a healthy development between mind and body, and a cello technique inspired by his teacher Christopher Bunting, a former student of Pablo Casals.
For Jeroen den Herder, cello playing is based on natural principles like gravity, character and playfulness. Everything is music, play not to avoid mistakes, delegation of body functions and breathing are some key topics which will lead to a healthy way to achieve perfection. His main focus is on how and what people practise. He believes that being aware of one's imagination, sensitive listening and following intuition, are elements that have proved to be the best teachers for life.
Today Jeroen den Herder is professor at the Conservatories in Utrecht and Rotterdam, where he guides a class with 15 students. He's been a regular guest teacher at the Conservatory in Minsk and visiting guest professor at the University in Tainan, Taiwan.
He has given masterclasses in Holland, Germany, France, Israel, Turkey and in Prague.
"I've heard Jeroen den Herder performing the Elgar cello concerto with the Saint Petersburg Philharmonic Orchestra. He played with great distinction and sensitivity, and I believe he will grow into a wonderful cellist" Yehudi Menuhin, 1995