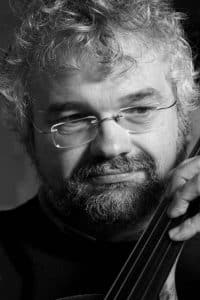 Meetings have often determined the direction of my career artistic.
– Jean Charlier, my 1st teacher at the Académie de Gilly, who taught me passed on his passion and introduced me to the art of Pierre Fournier.
– Juliette Longrée-Poumay, my piano teacher at Conservatory of Liège, … and its famous "working recipes" which I I'm still using it today.
– Garret List, first my musical improvisation teacher, then colleague, accomplice of many concerts. Garret … and his search for "Panoramic listening" !!
– Els Crommen, Serge Clément and Eric Leleux, …. 20 years of sharing, musical discoveries with the Nahandove Ensemble whose most beautiful "fruit" is the CD-Book: "Over there", around a Shakespeare's sonnet.
– Jean-Pierre Catoul, our late jazz violinist; thanks to him, I have shared the madness of William Sheller concerts and recordings songs from Alain Bashung, the band Niagara and many more ….
– Claudio Abbado, during the meetings of the Youth Orchestra of Europe, which taught us to listen intensely to silence, to concentrate absolute.
– Jean-Paul Dessy, colleague cellist, conductor of the Musiques ensemble News, companion of intense musical adventures.
– Nell Paxinou and the Baladins du Miroir, Jacques Delcuvellerie and Groupov, François Emmanuel and his poetic stories, Pirly Zustrassen and the Chromosonore quartett, Bernard Dekaise and the Ensemble Les temps Modernes, and other artists as well …. all in search of new discoveries, new horizons …
– Students in my classes at the Academy of Hannut, at Royal Conservatory of Liège, at summer academies courses … and their furious desire to "progress" so contagious !!
– The luthier Noël Warnier who built my cello …. on measure !
– And finally, all these composers that I try to serve as well as possible ….