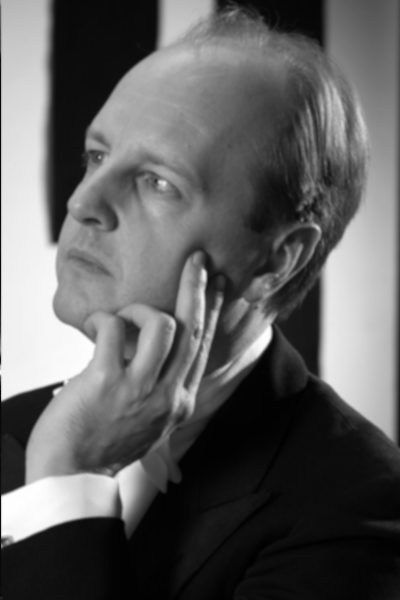 Jean-François ANTONIOLI, Swiss of North Italian origin, was born in Lausanne, Switzerland, in 1959. After studying with Fausto Zadra, a disciple of the legendary Vincenzo Scaramuzza, and being awarded the First Prize of Virtuosity at the Lausanne Conservatoire, he deepened his artistic knowledge for more than 3 years with Pierre Sancan in Paris. Together with these key teachers in his development, two other encounters had a crucial impact on the rest of his life: Bruno Seidlhofer, a reference of the Viennese style, and Carlo Zecchi (Rome, Italy), himself a disciple of Busoni and Schnabel, who will inspire Antonioli to play the 21 Mozart piano concerti.
As a pianist, he has been invited to perform, either solo or with orchestra, in musical centres throughout Europe, Israel and Canada. His US début was in 1991 with the National Symphony Orchestra in Washington, DC. He has appeared in a number of international festivals such as Montreux-Vevey, Lucerne, Orpheum Soloists in Bad Ragaz, Radio-France in Montpellier, Jeunesse Festival at the Vienna Konzerthaus, the Merano and Sorrento festivals in Italy, the Dubrovnik summer Festival, the Zadar and Varazdin Festivals in Croatia, the Beogradski Prolecni Pijanisticki Festival in Serbia, Pecs Napok in Hungary, Enescu and Lipatti in Bucharest, Lanaudière in Montréal, the Québec Festival d'Eté, the Birmingham Festival of Arts and that of Wolf Trap in Washington. His radio performances have been relayed by the European Broadcasting Union and the French-speaking Community of Public Radios.
He has recorded 20 different CDs. His piano recordings on the Claves label include Debussy's 24 Préludes, as well as works by Busoni and Joachim Raff (1822-82) with the Lausanne Chamber Orchestra conducted by Lawrence Foster. Devoted to Frank Martin's works for piano and orchestra, his first record was distinguished at once by the "Grand Prix du Disque de l'Académie Charles Cros" in Paris in 1986, prior to being selected for the IRCA in New-York, along with the twenty best records of the year, by fifty critics from all over the world.
His conducting activities began in 1988. From 1993 to 2002 he was Principal Guest Conductor of the Timisoara Philharmonic Orchestra (Romania), with which he has toured several European countries and Brazil. He often shoulders both the conducting and the solo part, as in the complete concerti by Mozart and also the Bach, Haydn and even Chopin concerti. In April 1995 at the Atheneum of Bucharest, the UNESCO and the Rumanian Education Ministry presented him with the Dinu Lipatti Medal "as a token of high appreciation".
Several records were made with the Timisoara Philharmonic Orchestra: 2 Mozart piano concerti for the label Claves; Jean Perrin's De Profundis, Carl-Maria von Weber's clarinet concerto (solo part: Frédéric Rapin); for Timpani in Paris two world first recordings: Arthur Honegger's Amphion and L'Impératrice aux rochers (under the patronage of the legendary Paul Sacher) and Ferruccio Busoni's Geharnischte Suite and Brautwahl Suite. With the Luxemburg Philharmonic Orchestra, the recording of Jean Cras' (1879-1932) symphonic works was awarded 5 Diapasons by the famous French magazine of the same name, and yet another "Grand Prix du Disque de l'Académie Charles Cros" (1997). Recently, he conducted 4 concerti by Jean Perrin (piano, violin, violoncello, trombone) with outstanding soloists and the Kammerakademie of Potsdam, Germany.
Antonioli is in charge of a virtuosity class at the HEMU Vaud Valais Fribourg (Haute Ecole de Musique, the former Lausanne Conservatoire) where he holds a position of Head of the Piano Department. He has been giving master-classes since 1986 on the Island of San Giulio on the Lake of Orta in Italy, at the Music Academy of Sion, Switzerland (Tibor Varga Festival, 1991-94), at the European Piano Teachers Association Summer School in Dubrovnik, Croatia (1999 and 2001), at the Paris Piano Programme of the Ecole Normale de Musique Alfred Cortot, Paris, since 2006, at Musicalta in Rouffach (France), at the Forum internacional Orihuela (Spain), at the international Enharmonia Academy (Italy) and at Shiodome Hall in Tokyo (Japan).
In 1995, he started a yearly summer seminar for young soloists devoted to Mozart's concertante music in collaboration with the University of Timisoara. Besides, various national and international competitions invite him to take part in their juries.
His tireless activities as soloist and conductor have resulted in the premières of works by many composers, among whom Honegger, Lipatti, Perrin, Balissat, Fries, Metianu, Scolari, Derbès, Kovach; as well as the first European hearing of Henri Dutilleux's famous Le Jeu des Contraires (1989) and several world first recordings by Honegger, Martin, Cras, Perrin, Derbès, Busoni, Balissat, Chalier, Kovach, Fries, Gaudibert.
Two films on Antonioli by W. Wehmeyer (Germany) were made: Hearing Vocation (on the Island San Giulio, 2000) and Listening Eyes, about the relationship with the Timisoara Philharmonic (2002).
In November 1999, Antonioli was elected full member of the Central European Academy of Science and Art.
In October 2008, the complete works for piano by Arthur Honegger were released. This recording, made on special request of Honegger's daughter, was awarded 5 Diapasons.
His most recent two CD recordings of romantic composers (Chopin, Brahms, Fauré) in the wonderful acoustics of the Geneva Victoria-Hall (1888) (for the german label Klanglogo, Naxos distribution) were particularly appreciated, especially in the United States.