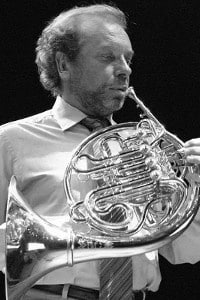 Originally from Pas de Calais, Jacques DELEPLANCQUE began his musical training at the age of seven under the guidance of Paul CANTIN.
After brilliant studies at the CNSM of Paris, he obtained a unanimous first prize for the horn and chamber music with Georges BARBOTEU and Christian LARDE.
At 18 ,he is named soloist of the" Orchestre National de Lille" (JC CASADESSUS) and then soloist of the Orchestra of Européan Community (Claudio ABBADO). A few months later Pierre BOULEZ, delighted by his playing, hires him for 12 years for the" Ensemble Intercontemporain" at the service of a repertory that constantly pushes the limits of the instrument even further. He then becomes a soloist at the" Orchestre National de France".
He plays as a soloist in the biggest cities in the world and his career is marked by recordings that are praised by the critics. Throughout his career he had the good fortune to work under the batons of prestigious conductors : S.CELIBIDACHE ,E.JOCHUM ,L.MAAZEL ,L.BERNSTEIN ,S.OZAWA ,R.MUTI…and more recently with M.PLASSON, J.SWENSEN, J.Van SWEDEN and Tugan SOKHIEV with" Orchestre National du Capitole de Toulouse".
Passionate about teaching ,he passes on his knowledge at the" Conservatoire National Superieur de Musique de Paris". He is member of the wind Quintet of Paris. Jacques DELEPLANCQUE plays Engelbert SCHMID horn.