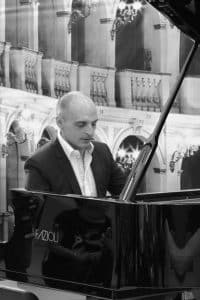 Pianist and conductor, Ivan Yanakov is a winner of international competitions.
He has performed in over 30 countries in Europe, Australia, Asia and North America. Major venues include Carnegie Recital Hall in New York, Cadogan Hall in London, Sydney Town Hall, Tokyo Metropolitan Theatre Concert Hall, Sapporo Concert Hall, Okinawa Convention Center, Taipei National Concert Hall, Hong Kong City Hall, Shanghai Oriental Art Center, and many others. He is a frequent guest of international music festivals and soloist with orchestras. In New York, he was awarded the Artists International Debut Series Prize at Carnegie Hall.
Born in Sofia, Ivan Yanakov graduated from Mannes College of Music in New York. He was a full-scholarship fellow at the Accademia Chigiana in Siena. In London, he became the Artistic Director of the London Chamber Players Orchestra. Ivan Yanakov made his conducting debut with the Czech National Symphony Orchestra in 2010 and has since conducted in Europe and Asia.
He has performed on television and radio broadcasts on four continents. Broadcasting highlights include Live from the Los Angeles Museum of Art.
He regularly gives master classes at universities and festivals in Europe and Asia and has been a jury member of many international piano and music competitions.