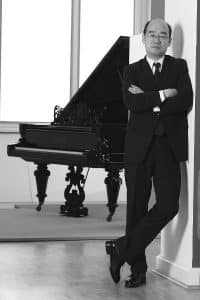 In-Kun Park, born 1974 in Seoul/South-Korea, is a Korean-German Pianist and Conductor. He began to play piano at the age of four and violin at the age of seven. Later he studied piano at the City Conservatory of Osnabrück with Ilse Mentrup and from 1990 with Professor Karl-Heinz Kämmerling, violin with Prof. Adam Kostecki at the Musikhochschule Hannover. He also studied violin with Professor Adam Kostecki at the Musikhochschule in Hanover. He became also Prof. Kämmerling´s Assistant.

Park has won First Prizes at the German National Youth Competition and International Grotrian-Steinweg-Competition Braunschweig. He also won Prizes and Diplomas at the Int. Liszt-Competition Weimar, Int. Tomassoni-Competition Cologne and German Music Competition Berlin.
He has offered a number of recitals in Europe and Korea. He has performed with numerous orchestras including the Philharmonia Hungarica and the KBS Symphony Orchestra Seoul (television concert).
Park has received scholarships from the "Studienstiftung des Deutschen Volkes" (German State Foundation), "Wilhelm-Kempff-Foundation", Jürgen-Ponto-Foundation and Richard-Wagner-Verband. Park´s performances and recordings have been broadcast on numerous occasions on the radio and TV in Germany (NDR, WDR, BR) and Korea (KBS).
In addition, Park was the conductor of the Louis Spohr Orchestra Braunschweig from 1998 – 2022. From 2002 to 2005 he was conductor of the Wolfsburg Chamber Orchestra.
Since 2021 he is the conductor of the Youth Symphony Orchestra of Braunschweig.
Since 2008 he is the managing director of the Louis Spohr Musikforum Braunschweig.
In-Kun Park gave master classes in several Universities in Seoul/South-Korea. Since 1997 he is teacher and head of department of piano at the City Conservatory in Braunschweig.