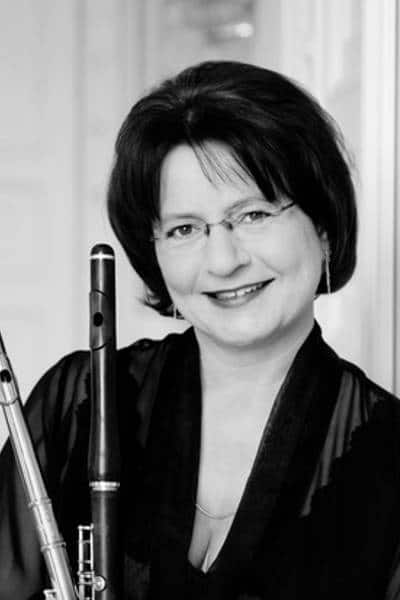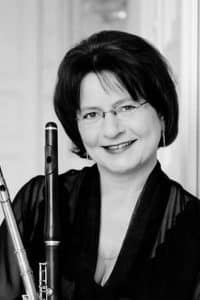 Born in Hamburg, Imme-Jeanne Klett studied with Prof. Jean-Claude Gérard and Prof. Ingrid Koch-Dörnbrak at the Hochschule für Musik & Theater Hamburg. She has achieved international success through the concerts she has given as a soloist and chamber musician at renowned festivals, such as the International Flute Festival, Schleswig-Holstein Music Festival (1999, 2001, 2012, 2018), Mecklenburg-Vorpommern Music Festival, Lower Saxony's Music Days, EuroKlassik Festival, Cultural Summer Hohenlohe, Festival Arabesques Hamburg, China-Time Hamburg and Berlin, Corveyer Music Weeks, Music Summer Mecklenburg-Vorpommern, Mozart Festival Wismar and many others, throughout Europa and the USA.
In addition to the standard flutistic repertoire of all epochs, Imme-Jeanne Klett devotes her interest especially to the rarely played literature for flute solo and for the flute in exceptional chamber music ensembles; in addition to works such as the rarely performed, highly virtuosic flute concertos by Charles Griffes, Jean Françaix and Julius Manigold, her special commitment is dedicated to the composers and works of French Impressionism and the adjacent Modernism for flute, harp and string trio.
In 1995, Imme-Jeanne Klett founded the Ensemble Obligat Hamburg (wind instruments, strings, harp, piano and harpsichord), that, with its exquisite programs and chamber music of all stylistic eras encompassing all instrumentation in somewhat unique scorings full of sound diversity and colorfulness, has a unique position in the international cultural landscape.
It is ensemble in residence for its own concert series in Jenisch Haus in Hamburg.
Since 2006, Imme-Jeanne Klett is Artistic Director of the Summer Serenade, Chamber Music Festival in the White Hall of the Jenisch Haus Hamburg.
CD productions were released by Dabringhaus and Grimm Detmold, Genuin Leipzig and the label C2 / ES-Dur Hamburg.
Broadcasting has been widely released for Deutschlandradio Kultur and the NDR, Hessischer Rundfunk and Radio Bremen and is broadcast on BR, RBB, WDR, SWR, Radio France, Radio Finland, Radio New Zealand and others.
Imme-Jeanne Klett is Professor for Flute at the University of Music and Performing Arts in Hamburg and teaches at international courses for flute and chamber music as well as in the gifted education of the HfMT Hamburg.
Since 1999 she is the solo flautist of the renowned chamber orchestra Hamburg Camerata.