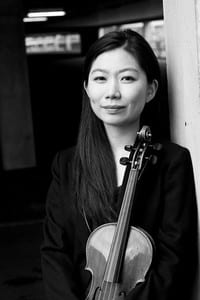 Reported by the 'Mitteldeutsche Zeitung' as having an "…Extraordinarily soft, expressive sound…"
Included amongst her former teachers and mentors are internationally renowned violinists Dongsam Ji, Prof. Koh Gabriel Kameda, and Prof. Eckhard Fischer. Hyuna Min has also received further inspiration by artists such as Aribert Reimann, Arnold Steinhardt, Ralf Gothoni, Chin Kim, the Guarneri Piano Trio, the Auryn String Quartet and pianist Christian Köhn with whom she regularly performs in duo recitals.
Ms. Hyuna Min has performed throughout Europe and Asia as a soloist and chamber musician, having appeared in both broadcast and television productions of stations such as Deutschlandradio, Radio Bremen, and polish TV channel Pepe TV in Europe, as well as in Korea on TV stations SBS G1 and MBC.  
Having played premieres of contemporary music written by living composers including some dedicated to Ms. Min herself, she also has performed in multidisciplinary projects as soloist and chamber musician, collaborating with actors from theatres in Köln and Hamburg in the stage production such as "Marco Polo" and others.
As a violin pedagogue Ms.Hyuna Min has taught at the University of Music Detmold, Germany, where she also was working with the precollege division of the University of Music Detmold (Detmolder Jungstudierenden Institut). In Korea she has been active in both workshops and giving masterclasses. In May 2016 she was invited as a juror at the Slavic Music Festival's competition in Moscow.
Hyuna Min holds currently a full-time teaching position at the Music Academy in Ettlingen, Germany.  
Photo :@Fabien Stürzt