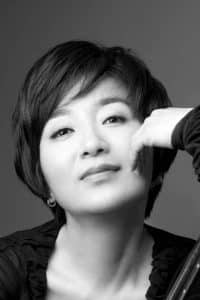 H
ye-Seung Keum was born in Kyungbuk, South Korea where she started her first piano lesson at the age of 4. She studied music at the prestigious Yewon Arts Middle School with Prof. Inha Han and Seoul Music & Arts High School and graduated Seoul National University (BA) with honor under the guidance of Prof. Nakho Paek. She pursued her further studies with Prof. Naoyuki Taneda and Prof. Wolfgang Manz at the Kalsruhe Staatliche Musik Hochschule in Germany for her Kuensterliche Ausbildung and Konzertexamen degrees majoring in piano performance. She has got musical influence through the masterclasses held by
renowned professors such as Jurgen Uhde, Sergei Dorenski,
Helena Costa, Takahiro Sonoda, Detlef Kraus,
Kahl-Heinz Kammerling
,
Lisa Pojola, Martha Sosinskaya and Rudolf Kehrer
.
At the age of 11, she won the Grand Prix at the National Youth Music Competition and made her debut in playing Piano Concerto with the Korean Christian Symphony Orchestra in Seoul. She also won numerous first prizes at national competitions and received the Chungnam Music Award.
She has performed as a soloist with orchestras including Sttutgart Chamber Orchestra, Korean Symphony Orchestra, Kurphaelzisches Kammer Orchestra, Pan-Asia Orchestra, Zilina Statny Komonrny Orchester, Seoul National Symphony Orchestra, Chongju City Symphony Orchestra, New Seoul Philharmonic Orchestra, KT Chamber Orchestra, Queensland Korean Orchestra, Karis Philharmonic Orchestra and Pesaro Symphony Orchestra. The Badishe Neue Nachrichten (BNN) praised her performance with Kurphaelzisches Kammer Orchestra as "very elegant Mozart Concerto with immaculately cultivated technique". She was also hailed as "a performer with delicate tone palette" (Darmstaedter Echo) and as "a pianist with kaleidoscopic brilliance and exquisite deliberation" (Otago Daily Times). As a pianist, she appeared in many cities in Korea, USA, Germany, Hong Kong, Australia, Austria, Slovakia, Spain and New Zealand.
She used to be an Artist-in-Residence at Stevens Institute of Technology in USA from July 2008 to June 2009. She is a steering member of Piano Society of Korea, Korean Association of Piano Pedagogy and Korean Dalcroze Association. As a professor of Piano at the Baek-Seok University in Korea, she devotes herself to educate the students and recently has got the best professor award for her academic achievement.