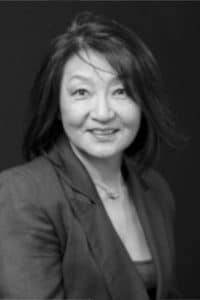 Soprano
Hiroko Kawamichi studied singing in Tokyo, where she earned a teaching degree in singing at Toho-Gakuen University and Nikikai Opera Studio. Arriving in Switzerland in 1978, she improved at Lausanne Conservatoire (HEMU lausanne) in the singing class of Juliette Bise, where she became the assistant. First prize of virtuosity with congratulations from the jury in 1980, she further perfected her performance skills with Eric Tappy and Lora Sarti.
Hiroko Kawamichi plays her first role, Suzanne, in 1981, in Mozart's The Marriage of Figaro, under the direction of Armin Jordan. Then she was engaged in StadtTheater Bern and Bienne for the role of Oscar in the Masked Ball at the Opera House of Biel. She plays sich roles as: Despina in Cosi fan tutte, Norina in Don Pasquale, Adina in Elixir d'amore or Mimi in La Bohème, Eurydice in Offenbach's Orphée au enfers, Mi in Le Pays du sourire… She was invited to sing at the festival in Vaison-la-Romaine, in Italy and in Czech Republic, and performed under conductors such as Cyril Dietrich, Jean-Marie Auberson, Michel Corboz or Peter Maag. 
Hiroko Kawamichi performs in recital with numerous choirs such as the Pro Classica choir, former mixed choir of Morges, the brassus men's choir under the direction of André Charlet, Theo Kapousopoulos with the Friborg Youth Orchestra or the University Choir of Lausanne under the direction of Jean-Christophe Aubert. She performs at the opera in a repertoire ranging from baroque to contemporary music, and she does not forget her Japanese origins, as evidenced by the show Aï Kaï, recorded on Radio Suisse Romande in 1995. Her discography counts ten albums, all recorded between 1990 and 2007.
Hiroko Kawamichi is a professor of singing in the professional classes at the Hochschule für Musik – HEMU Lausanne University of Music in Switzerland. She has in her class pupils of different nationalities (French, Swiss, German, Russian, Czech, Japan, Korea and China), and gave Master classes in St. Petersburg and Prague.
She has also been invited as jury of the international competition of the Autumn Symphony of Mâcon, of Leopold Bellan in Paris since 2017 and SJMW (Swiss Competition of Music for Youth) for many years.
Along with her activities, she has been Musical Director of the Hakuba International Music Festival in Japan since 2005, when she also sang there.
She invited top international musicians as a singer; Marina Viotti, as a pianist; Brigitte Meyer, Pascale Godart, as a violinist; Gyula Stuller, Pavel Vernikov, Svetlana Makarova, Bogdan Zvoristeanu, as violist, Alexander Zemtsov, Yukari Shimanuki as cellist, Henri Demarchette, Emil Rovner, Isteván Várdai, as flutist José-Daniel Castellon, as clarinetist, Cruzio Petraglio, as a hauvenist, Jean- Louis Cappezali, like Marinbiste, Tchiki Duo (Nicolas Sutter & Jacques Hostetteler), as bassist Michel Veillon and many other young musicians.
And she continues to collaborate with new musicians artists.
She is also interested in the formation of REIKI (the method of benevolence of the body and mind for self and others), Chikon and Yoga. And she integrates this method into her teaching of singing which is also a strong point for her students.