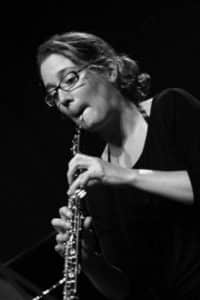 Born in Rouen, Hélène Gueuret studied recorder, then at the age of twelve, she began oboe and obtained a first prize in both disciplines in 1997 at the National Conservatory of her hometown. After studying with Daniel Arrignon and Didier Pateau, she was admitted at the National Conservatory of Music and Dance of Paris in the class of Jacques Tys. In 2003, she obtained a first oboe award unanimously and integrated the improvement cycle into Maurice Bourgue's class.
In 2005, Hélène Gueuret won second prize at the Crusell International Competition in Finland.
She studied chamber music at the Paris Conservatoire with Paul Meyer and Éric Le Sage. It was at the National Conservatory of Music and Dance of Paris that in 2004, she won the first unanimous prize for chamber music in wind quintet as well as two prizes successively in 2003 and 2013 of the international competition of Henri Tomasi wind quintet.
Hélène Gueuret is currently a member of the ensemble Pasticcio Barocco, a baroque repertoire ensemble on modern instruments. Three beautiful records have been published for the HERISSON label. She also collaborates with the ensemble INITIUM, wind instrumental ensemble revisiting the French repertoire of chamber music with which she has recorded pieces by Koechlin, Caplet and Magnard.
Her experiences in orchestras include the Ensemble Intercontemporain, the Paris Opera, the Radio France Philharmonic Orchestra, the Auvergne Orchestra, the Rouen Opera, and the Lille National Orchestra. Abroad, she has worked with the Walloon Chamber Orchestra in Belgium, the Ciutat de la Arts Opera and the Ciències from Valencia in Spain directed by Z. Metha and with the Kremerata Baltica Chamber Orchestra conducted by G Kremer.
After teaching at the Conservatory of the 7th arrondissement in Paris for 8 years, Hélène Gueuret is currently Professor at the National Conservatory of Saint-Maur-des-Fossés and replaces Nora Cismondi at the National Conservatory of Paris for the year 2019-2020.
Since 2004, she holds the position of second oboe playing English horn at the Orchester National d'Ile-de-France.