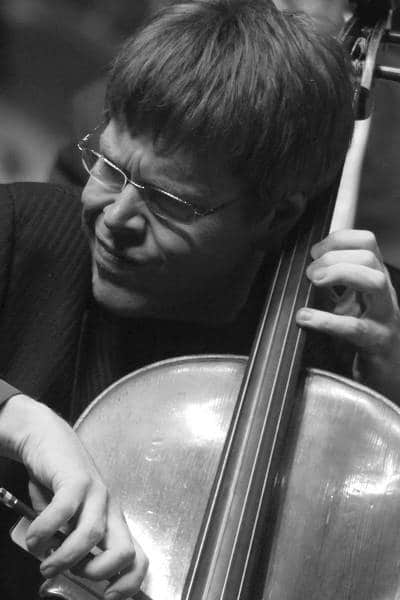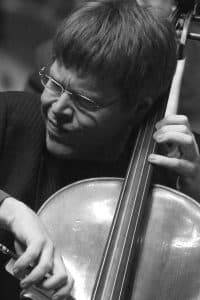 After a promising debut as a violin player Guido Schiefen very soon fell in love with the cello. As a result of good progress he became first prize winner of several youth competitions (1st prize Bundeswettbewerb "Jugend musiziert" 1980) and at the age of twelve he joined the Musikhochschule Köln as a "young student" of his teacher Prof. Alwin Bauer.
Besides that he was inspired by additional lessons with Maurice Gendron and Siegfried Palm.
Already at young age he was performing on stage as a soloist and chamber musician. After finishing school (Abitur 1987) he continued his fulltime studies in Cologne. During that time he was engaged for the first time to several radio and television productions as well as CD recordings.
As winner of the Köln Hochschulwettbewerb he received a scholarship by the German "Studienstiftung".
In 1990 (at the age of 22) he became a prizewinner in Moscow at the 9th Int. Tschaikowsky competition. Soon after that he was awarded the young artists promotion prize of the country Nordrhein-Westfalen (North Rhine Westphalia).
He was invited to perform in International music festivals like Bachwoche Ansbach, Davos, Rheingau Musikfestival, Echternach / Luxemburg ,Saga / Japan etc.
Ever since he has been performing worldwide in renowned concert halls with orchestras like WDR Köln, Bamberger Symphoniker, Festival Strings Lucerne, Berliner Symphoniker, Royal Philharmonic Orchestra London among others. In Duo Recitals and other chamber music formations he performed with pianists like Günter Ludwig, Pavel Gilov, Olaf Dressler and Alfredo Perl
Guido Schiefen's repertoire obtains the essential standard masterpieces of the cello repertoire as well as more unknown works of less famous composers from different epoques. Some of these pieces have been published for Tonger (Köln), Schott (Mainz), Peters (Leipzig) among others.
Quite a big part of it has been recorded on more than 30 CDs during the last three decades for companies like Arte Nova, Oehms Classics, cpo, Darbringhaus & Grimm. Most of these recordings have been reviewed enthusiastically and thus have established Guido Schiefen's reputation as one of his generation's leading cellists.
Recently Guido Schiefen appeared on the CD market with two new recordings: the complete works for cello and piano by Max Reger (with pianist Jacob Leuschner, for Oehms Classics) and "Schumannia" (the standard pieces for cello and piano plus song transcriptions) with pianist Markus Kreul (for Dabringhaus & Grimm). As a result of "Schumannia" Markus Kreul and Guido Schiefen were rewarded as "Schumann ambassadors" and became members of the board of artists of the Schumann Forum Bonn in 2017.
Guido Schiefen is a very passionate cello teacher as well. Since many years he has been teaching masterclasses in Germany, the United States, Hungary and other countries on a regular basis. In September 2008 he was appointed as cello teacher at the Hochschule Luzern – Musik. In 2009 he was awarded the title "Professor" . Since 2000 Guido Schiefen is artistic director of the "Klassik-Bühne Rhein-Sieg".