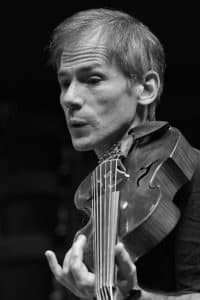 Garth Knox was born in Ireland and spent his childhood in Scotland. After studying at the RCM, he played with most of the leading groups in London in a mixture of all repertoires, from baroque to contemporary music.
In 1983 he was invited by Pierre Boulez to become a member of the Ensemble InterContemporain in Paris, involving extensive solo and chamber music playing, touring widely and appearing in international festivals.
In 1990 Garth Knox joined the Arditti String Quartet, playing in all the major concert halls of the world, working closely with and giving first performances of pieces by most of today's leading composers including Ligeti, Kurtag, Berio, Xenakis, Lachenmann, Cage, Feldman and Stockhausen (the famous"Helicopter Quartet").
Garth Knox now lives in Paris, where he enjoys a full time solo career, giving recitals, concertos and chamber music concerts all over Europe, the USA and Japan. He is also an active composer, and his «Viola Spaces », the first phase of an on-going series of concert studies for strings (published in 2010 by Schott) combines ground-breaking innovation in string technique with joyous pleasure in the act of music making. The pieces have been adopted and performed by young string players all over the world.
He is also a pioneer of the viola d'amore, exploring its possibilities in new music, with and without electronics, and is in the process of creating a new repertoire for this instrument.
After teaching posts at Musikene in San Sebastian and the Royal Northern College of Music in Manchester, Garth Knox is presently International Professor at the Royal College of Music in London.