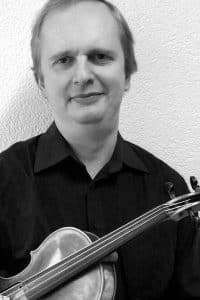 Friedemann Amadeus Treiber was born in Offenburg in 1971. He received his first violin lessons at the age of 5 from his brother Felix Treiber.
He completed his studies with Prof. Wolfgang Marschner in Freiburg i.Br. and Prof. Hansheinz Schneeberger in Basel.
In 1991 and 1992 he got the diploma as a violin teacher and the soloist diploma with distinction at the Music University Basel.
Friedemann Amadeus Treiber is winner of numerous national and international competitions (Competition Ludwig Spohr in Freiburg i. Br, Henryk Wieniawski Medal, Premio Rodolfo Lipizer in Gorizia,Italy…).
He has a wide range of international concert activities, as well as CD and radio recordings as a chamber musician and soloist with well-known ensembles and orchestras including SWR Orchestra, Nürnberger Symphoniker, Stettin Philharmonic, Basel Symphony Orchestra, BAROSSA Festival Orchestra Australia,Philharmonisches Orchester Altenburg Gera, Lobkowicz Chamber Orchestra Prague, Ensemble for New Music in Zurich…
Radio recordings took place since 1985 on Deutschlandfunk, SWR, Swiss Radio DRS, Australian Broadcast Corporation. Radio recordings are followed by CD recordings including J.S. Bach's solo sonatas and partitas, Paganini caprices and solo sonatas by Max Reger, Béla Bartók and H.W. Henze, furthermore CD recordings in a duo with the guitarist Klaus Jäckle from Nürnberg, also CD productions with the Ensemble Aventure Freiburg and the Ensemble Phoenix Basel and last but not least the world premiere recording of all six suites for solo violin by Johann Paul von Westhoff in combination with one of is own composition : the 2nd sonata for solo violin.
His repertoire includes numerous works for solo violin, chamber music as well as Violin concertos from all epoques.
He is also concert master of the Ensemble Phoenix Basel and leader of the Ensemble Aventure Freiburg i. Br.
Friedemann A. Treiber also plays viola and piano and is also very active as a composer. His list of works includes compositions for solo instruments, chamber music, vocal and orchestral works.
Since 2016 he has been a violin professor at the Kalaidos Music University in Switzerland and keeps getting invitations to give international master classes.