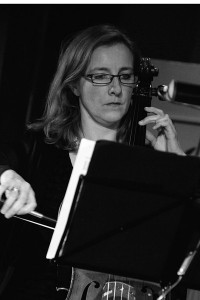 Frédérique ARONICA-LEHEMBRE began her musical studies in cello, chamber music, harmony, counterpoint and fugue at Reims Naional Conservatory.
There, she met Pierre Penassou and Michel Poulet who transmit her their passion for chamber music.
She continued her training at Paris Superior Conservatory – CNSMD in writing classes and analysis of Edith Leje, Roger Boutry and Michaël Levinas and she also continued at the «Ecole Normale de Musique» in Paris where she enjoyed the teaching of professors Marc-Didier Thirault and Geneviève Teulières. Then, she studied with Jean-Marie Gamard, Marcio Carneiro and Gary Hoffmann. She is passionate about baroque cello and she aldo improved at Brussels Royal Conservatory where she obtained a Master in the class of Hervé Douchy.
Frédérique Aronica performs regularly in chamber music in various formations, especially with the cello quartet «Cellissime» and string trio «Intermezzo» and also the orchestra of the Opéra de Reims.
Her curiosity and taste for eclecticism leads her to multiply varied experiences and meet new people, both pedagogically and instrumentaly. She participates in the creations of Musical Theater ("Small Scenes " and "Carmen" with the companies "Music Creation Diffusion"and "Black Box".
Very interested in contemporary music, she joined in 2010 the cello ensemble «Nomos», dedicated to contemporary repertoire.
Frédérique Aronica holds the French Certificate of teaching for cello and she is professor at Laon Conservatory of Music since 1990.