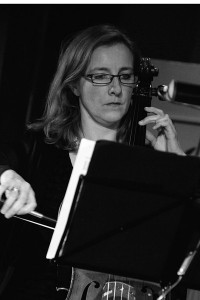 Frédérique Aronica-Lehembre begins her musical studies with cello, chamber music, harmony, counterpoint and fugue at the Reims Conservatory. It is there that she meets Pierre Penassou and Michel Poulet who pass on their passion for chamber music, as well as Olivier Trachier for the writing disciplines.
She continues her training at Paris Superior Conservatory – CNSMD with the writing and analysis classes of Edith Lejet, Roger Boutry and Michaël Levinas and she also improves at the "Ecole Normale de Musique" in Paris where she enjoys the teaching of cellists Marc-Didier Thirault and Genevieve Teulieres. She then perfected with Jean-Marie Gamard, Marcio Carneiro and Gary Hoffmann.
Her curiosity and her taste for eclecticism led her to multiply various projects and new encounters, both pedagogically and instrumental.
She participates in Musical Theater creations with the companies La Boîte Noire or Musique Création Diffusion. Very interested in new music, she joined in 2010 the set of cellos Nomos, which is dedicated to the contemporary repertoire. Passionate about baroque cello, she studied this discipline at the Brussels Royal Conservatory where she obtained a Master with Distinction in the class of Hervé Douchy in 2014.
She regularly performs in various ensembles, such as the Reims Opéra Orchestra, the Nomos cello ensemble, the Metz National Orchestra, Voyages Extraordinaires, the Picardy Orchestra, the cello quartet Cellissime, the Baroque Circle, the Agrémens …
The «Scènes partagées» will give her in March 2020 the opportunity to play the piano quartets of Mozart and Beethoven with Marie-Josèphe Jude, after the sextets of Brahms and Dvorak with Gary Hoffman, Schumann's piano quintet and Chopin's chamber concert with Jean-François Heisser.
Frédérique Aronica holds teaches at the Conservatoire du Pays de Laon. She also works as an assistant in the baroque cello class at the Royal Conservatory of Brussels and collaborates with the ENSMD of Lille in pedagogical training for students.
Very involved in the musical and pedagogical practice, she regularly supervises the violoncello students of the Symphonic Orchestra as part of the "Young Symphony of the Aisne" project, in partnership with the orchestra "Les Siècles" , conducted by François-Xavier Roth.