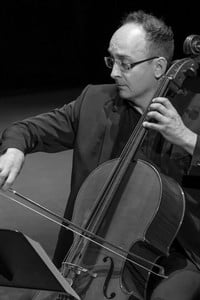 After studying cello with Claude Brion and Guy Besnard, Frédéric Defossez is unanimously admitted at the Paris National Conservatory of Music and Dance – CNSMDP – in the class of Jean-Marie Gamard.
There he studies with Marc-Didier Thirault and Patrick Gabard and he obtained the Diploma of Higher Education and a 1st unanimously prize of chamber music in the class of Jean Mouillère.
He participated in several masterclasses including the Takacs string quartet, the Borodine string quartet, Veronika Hagen, Arto Noras and Valentin Erben. Bernard Greenhouse.
He has performed with Luc Hery, Alexei Moshkov, Lorenzo Garro, Isabelle Moretti, Michel Michalakakos, Célimène Daudet, Pierre Genisson, Jocelyn Aubrun, Philippe Pierlot, Jean-François Duquesnoy and Romain Leleu.
Holder of the Certificate of Aptitude for the position of professor (CA), he teaches the cello at the Departmental Radiation Conservatory of the Community of Agglomeration of Cambrai.
Laureate of the Mécénat Musical Foundation of Société Générale, Frédéric Defossez has been a member of the string sextet Opus 62 since 2000.