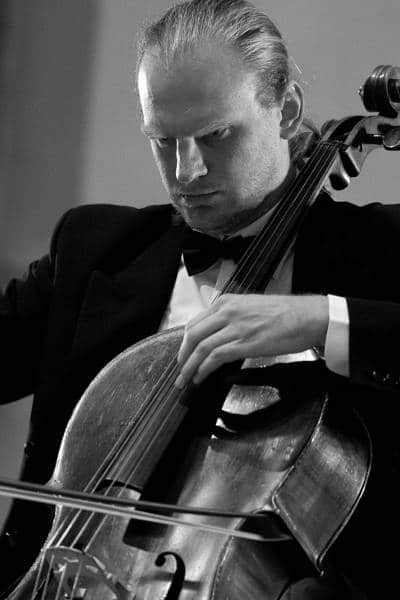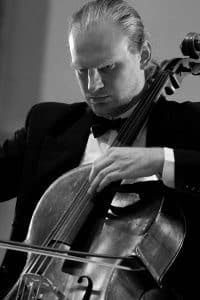 Czech cellist František Brikcius was born in Prague, into a family with a distinguished cultural background. He has been playing the cello since early childhood.
Following his cello studies at the Prague Conservatoire, he completed his Master's degree at the Janáček Academy of Music (JAMU) in the Czech republic. . He furthered his cello skills at the Toho Gakuen Academy in Japan and later under the guidance of legendary cellist Prof. Anna Shuttleworth (student of Pablo Casals) in the United Kingdom (Eton Cello Master Classes and the University of Leeds).
He won the 2nd prizes at the Anglo-Czech Competition in London (1999), the International String Competition London (2000) and the International String Competition Jihlava (2003). . He has been awarded many scholarships and fellowships, including the Czech Music Foundation (CHF), the Ministry of Culture of the Czech Republic, the Music Foundation OSA, the Socrates-Erasmus, and the Gideon Klein Foundation for the propagation of works written by Jewish Holocaust Composers.
František chose to dedicate his life to the interpretation of cello compositions written by composers of the 17th, 18th, 19th, 20th and 21st centuries, giving special consideration to compositions for solo cello. His favourites are cello suites by Johann Sebastian Bach, Max Reger, Ernest Bloch and Benjamin Britten.
He is particularly involved in researching, studying and performing works by Czech (Antonín Dvořák, Leoš Janáček, Bohuslav Martinů, Josef Suk and Irena Kosíková), Jewish & Terezín (Gideon Klein, Erwin Schulhoff, Zikmund Schul, Jaromír Weinberger, James Simon and David Popper) and contemporary composers (Conrad Beck, Luciano Berio, Pierre Boulez, Benjamin Britten, Henri Dutilleux, Wolfgang Fortner, Alberto Ginastera, Cristobal Halffter, Hans Werner Henze, Heinz Holliger, Klaus Huber and Witold Lutoslawski), playing on a "George Kriwalski" cello made in 1904.
Together with his sister Anna Brikciusová, he is a founder member of the "Duo Brikcius". He is artistic director of Festival Brikcius – Chamber Music Concert Series in Prague, Bach Festival Gers in France and Waltham Forest Cello Fest (the 1st London Borough of Culture meets Classical Music) in London.
František works as an independent film-maker as well. His first music documentary film MAKANNA (in the cooperation with the Jewish Museum in Prague and under the auspices of Sir Tom Stoppard and Václav Havel) was screened in the Czech republic, China, Mexico and Portugal. He is currently working on new music documentary film eSACHERe (2022).
As a soloist František has performed at many festivals in Algeria, Austria, Belgium, Bosnia and Herzegovina, Bulgaria, the Czech Republic, France, Germany, Israel, Italy, Japan, Liberland, Pakistan, Poland, Russia, Serbia, Slovakia, Sweden, Turkey, Uzbekistan and the United Kingdom.
František has been teaching cello for many years. He is experienced at taking students at all levels, able to give master classes as well as support beginners. He is giving cello master classes in the United Kingdom, France, Italy and remotely online via Zoom/Skype.
Served as a jury member in various competitions including the Berliner International Music Competition in Germany, the Music and Stars Awards, the Music International Grand Prix, the Sound Espressivo Global Competition, the Palm Beach International Music Awards, the King's Peak International Music Competition and the Baku International Cinema Festival in Azerbaijan.