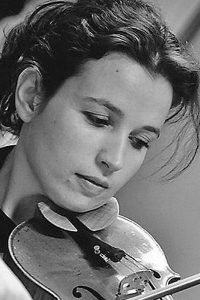 After training in the classes of Constantin Serban, Anne-Marie Morin and Maurice Moulin, Fanny Lévêque very quickly became interested in the pedagogy in parallel with his artistic career.
She has been a professor of violin since 1996 at the Conservatory of Taverny.
 His musical eclecticism leads her to perform in formations of very different styles. Passionate about chamber music and orchestra, violin solo of the Ensemble Orchestral Taverny since 2009, she participates in many concerts in different formations. She also accompanies many artists of variety and jazz (Jean My Truong, Paco Seri, Thierry Maillard …) and is invited to perform in many festivals (Nice, Ramatuelle, Samois sur Seine, Metz, Toulon, Lyon …) and concerts in France and Europe.