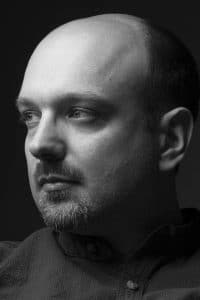 Eric Maestri (1980) is an Italian composer currently living and working in France. Even so, in musical terms, he has no belief in the existence of borders. Eric writes instrumental, vocal, electroacoustic, mixed-media, and collective works; his publisher since 2011 is Suvini Zerboni (Italy).
The first work in his catalogue that he recognizes is La musica che non ho in mente [The music that I don't have in my mind] (2001), a musical-theatre composition that sums up all the themes that his subsequent music would develop, at the frontiers of philosophical reflection on music itself; psychological self-analysis of the creative phenomenon; and the flow of time which, throughout its experience, projects images (phantoms) into the dimension of the future. In this work, the theme of writing constitutes the central component, interpreted as a unique concrete and conceptual aspect of the act of composing: writing is thought of as Derrida could conceive of it, as archi-writing. This perspective invites Eric to imagine composition as a complex act illuminating the natural and psychological phenomenon of becoming. The composer would ensue this path in works over the following decade or more: Pieghe; Celestrografia; Visioni – a show for electronics, lights and ensemble, premièred at the Venice Biennale in 2013; Le Cose; La musica è uno specchio trasparente; Ancora ancora la notte. Eric Maestri is a co-founder of /nu/thing, a composer's collective whose activities are documented in the blog www.nuthing.eu and the members of which have composed collective works.
In recent years Eric Maestri has worked in close collaboration with the Quatuor Maurice, Quatuor Diotima, Quartetto Prometeo, Ensemble musikFabrik, Ensemble Recherche, Ensemble Vortex, Ensemble Nomad, L'instant Donné, Chœur de chambre de Strasbourg, Ensemble L'Imaginaire, and La Dolce Maniera, as well as with the soloists Francesco d'Orazio, Keiko Murakami, Valentina Coladonato, Georgia Privitera, Saori Furukawa, Luigi Gaggero, Franco Venturini, and Emanuele Torquati. He is the founder and artistic director of ensemble L'Imaginaire, with which he has produced more than 40 concerts and two editions of the festival based in Strasbourg, "Minifest de musique de demain". His music has been performed at Tokyo Opera City (2016), Fondation ProQuartet (2016), Muziekgebouw aan 't IJ, Amsterdam (2015, 2008), Biennale di Venezia (2013, 2011), IIC in Paris (2015: portrait concert), Fajr Music Festival – Tehran (2015), Festival Ditat Terra (2014), Verso Traiettorie (2013), Milano Musica (2012), Fondation Royaumont–Voix Nouvelles (2012), Unione Musicale (2012), Festival Agora, IRCAM – Centre Pompidou (2010–11), Fondazione Spinola-Banna per l'arte (2011), and the Konzerthaus Berlin (2013, 2010), and broadcast by RAI, Radio France and NPO (Netherlands). In 2016 the Italian label Stradivarius released his first monographic recording, Le Cose [Things], played by the ensemble L'instant Donné.
Eric Maestri was trained at the conservatories of Brescia and Turin, where he obtained his "diploma di maestro di musica" in composition. He then specialized at the Strasbourg Conservatory and at IRCAM. He also holds a PhD in composition from the University of Huddersfield (UK). His teachers include Gilberto Bosco, Ivan Fedele and Yan Maresz. He was a nominee for the Gaudeamus Music Prize 2008 (Amsterdam). During his training he participated in the IRCAM reading panel (2009–10), Acanthes Academy (2007–08), the Darmstadt summer courses (2010), and the Fondation Royaumont–Voix Nouvelles (2012). He received the Fondazione de Sono Scholarship (2011–13). On a musicological level, Eric is interested in the history and analysis of electroacoustic and mixed-media music. He teaches at Paris 8 University, Vincennes-Saint-Denis where he is member of CICM lab. Eric has previously taught at the University of Strasbourg, Strasbourg Conservatory.