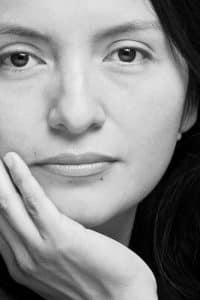 Edith Escudero García was awarded the first prize in several international competitions such as the Fourth National Edvard Grieg Competition in Mexico and the Possehl Music Prize of the Hanseatic City of Lübeck. Her distinguished professional activities have led to the recognition and support from various well-known international institutions like DAAD in Germany, FONCA in Mexico, the Norwegian Embassy in Mexico, the International Society for Mexican Artistic Values (SIVAM), the Yehudi Menuhin Association "Live Music Now" and the Marie-Luise Imbusch-Stiftung to mention just a few.
Originally from Mexico City, she began her musical studies at an early age under the guidance of her parents. At the age of 11 she started piano lessons with Dr. Fernando García Torres in the "Escuela Superior de Música del INBA". At the age of 21 she obtained her first diploma with high honors. At the time, she was the youngest musician and the first woman from the institution to graduate with that distinction.
Subsequently, she received mentorship from the distinguished pianist and professor Aquiles Delle Vigne at the Conservatory of Rotterdam. In 2003, she continued her studies at the Musikhochschule Lübeck where she has graduated as a pianist, chamber musician and piano teacher under the tutelage of the international renowned professors and pianists Konrad Elser, Inge-Susann Römhild and Manfred Aust.
As a soloist and chamber musician, she has performed in distinguished concert halls across Mexico, Norway, Germany, Austria, Holland, Palestine, Spain, England and the United States.
Edith Escudero has received master classes from maestros like Anatol Ugorski, Oleg Meisenberg, Andrzej Jasinski, Gyorgy Sandor, Eva Kupiec, Victor Derevianko, Jorge Federico Osorio, Bernard Flavigny, Eva María Zuk, Naoya Seino, Silvia Navarrete and Jorge Luis Prats.
Since 2011 Edith Escudero has been teaching piano at the Musikhochschule of Lübeck.
She has also tutored and headed the piano department at the "Musik- und Kunstschule Lübeck" since 2019.
Her students and pupils have been honored with prizes and recognitions in several competitions and projects. She has been a member of the jury of the national competition "Jugend Musiziert" in Germany many times.