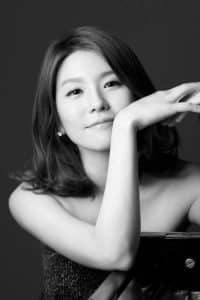 Praised by Michel Béroff: "Dasul Jung is a wonderful musician and pianist.
Her sensitivity, her volcanic temperament and her bright inner understanding of music , match to produce one of the very special artists of today".
Pianist Dasul Jung studied at the Yewon School and Seoul Arts High School. Afterwards she began her professional studies at Seoul National University with prof. Hyoung-Joon Chang. She moved to Europe to continue her studying at Hochschule für Musik, Theater und Media in Hannover, Germany. There, she studied in the class of Matti Raekallio, Bernd Goetzke and Markus Groh. She also improved with Boris Petrushansky at the Accademia Pianistica Incontri col Maestro di Imola, Italy.
Dasul Jung is prizewinner of many prestigious international piano competition such as
"Concurso Internacional de Piano Premio Jaén", "Prix d´Amadéo International Competition in Aachen", "Concorso di Pianoforte Piana del Cavaliere, in memoriam Pietro ladeluca" in Italy. She was also a Medalist at the "Concours International de Piano d'Epinal", and a Finalist at the "Ferruccio Busoni International Piano Competition".
Dasul Jung has given concerts in various festivals and recitals including, Mosel Music festival, Kurtursommer Festival in Rheinland-Pflaz in Germany, Salle Cortot in Paris, Ballsaal von alten Kurhaus in Aachen, Seoul Art Center, Kumho Arts Center in Korea. Her performance has been broadcasted by the Valencia broadcasting station in Spain..
Dasul Jung is also passionate in teaching. Recently she joined the piano faculty of Seoul National University, Kyung-Hee University and Seo Kyeong University where she teaches applied piano to undergraduate and graduate music students. She is also Visiting Professor of Piano on the faculty of Yonsei University and Hanyang University in Seoul, South Korea.