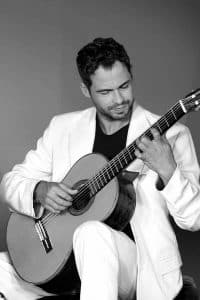 Christian Reichert shows a command of the guitar that encompasses both extreme sensitivity and virtuosity. The guitarist with "the fascinating technical experience and perfect rhythm" (Chicago Tribune) "fills the audience easily with enthusiasm" (El País, Spain).
Having specialized in latin music Christian Reichert combines his classical guitar art with flamenco, Bossa Nova, Tango and others. He concertizes and gives master-classes all over Europe, alos in Russia, North and South America.
For his mainly classical guitar students he opens the world of many other musical styles from the perspective of a classical trained guitarist at the University of Music in Freiburg (Germany) and the music school Binningen (Switzerland).
Christian Reichert works as a soloist with renowned orchestras like the Rousse Philharmonic Orchestra", the "Frankfurt Radio Symphony Orchestra", the Sofia Philharmonic Orchestra, the "Freiburg Philharmonic Orchestra", the Orchestra Cameralna Bratislava" and many others.
Christian Reichert earned worldwide reputation with his much lauded compact disc recordings for "Music Minus One" in New York. He has recorded the most important guitar concertos with orchestra like Rodrigos´ "Concierto de Aranjuez", "Fantasia para un Gentilhombre", concertos by Mauro Giuliani, Ferdinando Carulli, Mario Castelnuovo-Tedesco, Manuel Maria Ponce and Antonio Vivaldi. The recordings are distributed worldwide and beeing sold more than 150.000 copies in 18 countries.
He won 12 prizes at international competitions all over Europe like 1998 the First Prize at the International Guitar Foundation`s Competition in Plovdiv, Bulgaria, as well as First Prize at the International Competition for Contemporary Music 1999 in Frankfurt (Germany).
He finished his studies as a guitar soloist in Cologne and Freiburg (Germany) with distinction. His teachers were Roberto Aussel (Argentina), Sonja Prunnbauer, Manuel Barrueco, Leo Brouwer, Roland Dyens and the Grammy winners Alvaro Pierri and Sharon Isbin. A very special honour was the work with legendary baritone Dietrich Fischer-Dieskau.
Christian Reichert has recorded more than 20 CDs and played for many television and radio stations worldwide.
Since 2017 he has been teaching at the Hochschule für Musik in Freiburg (Germany) and since 2007 at the à la Hochschule für Musik in Basel (Switzerland).
More infos see at www.christianreichert.com