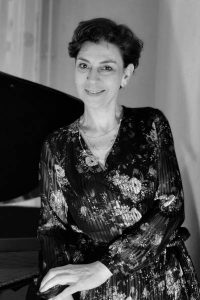 Originally from the homeland of Denis Diderot, Catherine Chaufard is currently Professor of piano at the Regional Conservatory of Grand Nancy.
First prize unanimously from the CNSMD – National Superior Conservatory of Music in Lyon, she was a disciple of Roger Muraro.
Not conceiving music without an in-depth knowledge of the genesis of works and their correspondence with other Arts, she never stopped enriching her training and obtained also diplomas in Chamber Music, Singing, Support, Analysis, Music History and Art History.
Rich in this cultural background and keen to share her musical passion with a large audience, she enjoys performing as a soloist, chamber music and orchestra, in a varied repertoire ranging from harpsichord music to orchestral transcriptions.
She lives in Nancy since 2004, and she is regularly invited by the Stanislas Ensemble to defend, alongside the soloists of the Symphonic and Lyric orchestra of Nancy, a repertoire of Chamber Music ranging from masterpieces by Robert Schumann, Johannes Brahms, Gabriel Fauré … to a lesser-known repertoire, such as that of Luciano Gallet, André Caplet or even Jean Cartan, of which she has just engraved a new piece, Introduction et Allegro (Timpani) and of which she has revived a work unpublished youth work, Sonatine pour Piano, in February 2019.
Catherine Chaufard is an accomplished concert performer and plays in Italy or on National french Radio "France Musique" playing "Twenty Regards of the Child Jesus" by Olivier Messiaen.
At the "Petit Théâtre dans la Ville" (Little Theater in the town) in Nancy, beside the actors, she performed in a series of performances in which the music of Frédéric Chopin echoed the texts of George Sand.
More recently, at "La Chapelle du château" de Lunéville (November 2019) it is in the company of the writer, Gilles Laporte, that she paid tribute to the Lorraine origins of this master of the romantic piano, in a show alternating stories and interpretations musical.
Her great artistic versatility is expressed just as well in the creation of contemporary works such as those by Bernard de Vienne, "Declinations for violin, cello and piano", but also solo in "Electric Moments", by the young composer Charles-David Wajnberg, work to which she is dedicated.
Catherine Chaufard holds a State Diploma and a Certificate of Proficiency as a Piano Teacher. This is how, since 2004, she has been passionate about the art of transmission, within her class at the Nancy Conservatory.
Artist with a great sensitivity, a passion and an unlimited curiosity, Catherine Chaufard, undoubtedly carries the constant concern to adapt her knowledge of the pianistic repertoire to the numerous requests which emanate from young apprentice musicians coming from France, Brazil or China.