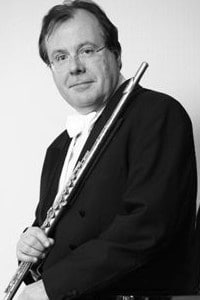 Carlo Jans began his first flute lessons at the age of seven, violin lessons at twelve. On the completion of his training in Luxembourg and Nancy (class of Jacques Mule), he continued studies at the Conservatoire Royal de Liège, ( Diplôme Supérieur de flûte) and at the Royal Conservatory of Maastricht (Soloist's Diploma). Being a student of Raymond Guiot, former soloist at Paris Opera, he attained the "1.Prix Supérieur de la Ville de Paris". He completed a two years' postgraduate program at the Cologne Academy of Music  in the masterclass of András Adorján. As private student , Carlo Jans worked with the famous flutist Aurèle Nicolet and followed masterclasses with Alain Marion and  Peter-Lukas Graf.  
Open to new musical horizons, Jans studied conducting under Jan Stulen and Jean-Philippe Rieu at the Royal Music Academy of Music in Maastricht (Conducting Diploma with honours), followed by a Postgraduate Diploma at the « Zuid Nederlandse Hogeschool voor Muziek. »
Further conducting studies with J.Panula in St.Petersbourg. Doctoral studies at the Academy in Lodz (Poland).
Since 1984, Carlo Jans has taught  flute and chamber music at the Conservatory of Luxembourg. In 1999, he was awarded a professorship for flute and conducting and took over leadership of the Conservatory orchestras. From 1997 on , he has been guest professor at the Academy of Music in Riga, Latvia and he is often invited for masterclasses in the Netherlands, Belgium, Germany, Czech Republic, USA, Brazil, Greece and in France. From 2002 to 2009, Carlo Jans was  teaching  at the Musikhochschule Saarbrücken in Germany.
Since 2009, flutist in the Chamber orchestra "Solistes Européens  Luxembourg".
Beside his professional life as teacher, he also pursues an active career as a flutist and conductor. He has been invited to perform as soloist an as a conductor with RTL Symphony Orchestra, Sonderjyland Symphony Orchestra, Orchestre de Chambre d'Auvergne, Prague Radio Symphony Orchestra, Brno State Philharmonic Orchestra, Porto Symphony Orchestra, Switzerland Chamber Orchestra, Orchestre de Chambre Jean–François Paillard, Moravian Chamber Orchestra Olomouc, Philharmony Oltenia, Roumania and the Latvian Philharmonic Chamber Orchestra; he has also been a guest conductor of the latter formation since 1997. Main Guest conductor of the chamber orchestra "Estro Armonico – Luxembourg", guest conductor "OCL – Orchestre de chambre de Luxembourg"
He has played concerts as the partner of flutists like András Adorján  Maxence Larrieu, Janos Balint, Jean-Claude Gérard, with pianists like Daniel Blumenthal, Gabriel Tacchino, Thomas Duis,  jazz pianist Claude Bolling, violonist Jean-Jacques Kantorow, cellist Mirel Iancovici, or chamber music groups like the Zürcher Streichtrio, Danel String Quartet, Martinu String Quartet and many others.
As conductor, he has accompanied soloists like Cyprien Katsaris, Daniel Blumenthal , Marta Sudraba , Janos Balint, Steven Meat….
Numerous composers have written  solo pieces, chamber music and concertos for him, e.g.   François Glorieux , Jean-Louis Petit , Marcel Wengler, J. Feld ( Alphonse Leduc Publisher) and Victor Fenigstein (Boosey and Hawkes)….
His discography (over 45 CDs)  for labels like  Pavane Records, Calliope Bella Musica, Arco Diva and others, have earned him outstanding reviews in the international press and awards such as the « Grand Prix du Disque » for his recording of the chamber music of Manuel Rosenthal.
Invited as a member of jury in Competitions like the V.Bucchi Competition, Kuhlau Wettbewerb, Netherland International Flute Competition, Cimarosa Competition, Bratislava flute Competition, Janacek Competition Brno, S.Gazzeloni Competition.