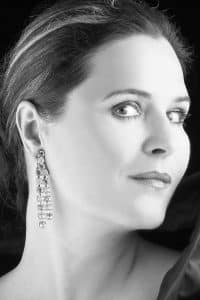 Brigitte Wohlfarth began her vocal studies in Würzburg, Germany, where she received scholarships from both the "Richard Wagner-Verband" and the "Leni- Geissler-Stiftung".Further studies with James King in Munich (National Theater) greatly influenced her singing artistry.
Her career began as sought-after oratoria and recital singer:
Rheingau Festival, Weilburger Schlosskonzerte, International Musiktage Bad Urach, Mozartfest Würzburg, Festival der Mitte Europe and the "Bregenzer Festspiele" are only a few of her many concert stations.
Milano, Rome, Bolzano, Trieste, Munich, Berlin, Nürnberg, Leipzig, Bern, Biel, Ankara, London, Singapore (New Esplanade Hall) Salzburg as well as in Australia, France, Norway and Finland and China.
Mrs. Wohlfarth can be heard on numerous CD and Radio productions, among the most important are:
Faust (Louis Spohr), Die Vögel (Braunfels – nominated for 40 Grammy awards), 9.Symphony (L.V. Beethoven) and Das Tagebuch der Anne Frank (G. Fried).
It is with the world premiere of the latter that Mrs. Wohlfarth launched her opera career in Nürnberg Germany in 1993.
. In the same year, following an appearance as finalist in the international "Neue Stimmen" competition (Bertelsmann), she debuted as "Desdemona" (Otello/Rossini) at Staatstheater Braunschweig, where she remained until 1997.
Since then she has guested in numerous theatres: Bologna (the opening of the ARENA DEL SOLE), Castello di Montegridolfo, Naples (Teatro San Carlo), Udine (the opening of the Nuovo Teatro), Palermo (Teatro Massimo), Festspiele Erl, Tbilisi (National Opera House), Beijing, Shanghai (Grand Theatre), Heidenheim (Opernfestspiele), Halle a.d. S. , Lübeck, Trier, Frankfurt a.M., Berlin, Stuttgart, Munich ( first night " Leonore – L.v. Beethoven ), Rome, London and Meiningen, where she enjoyed enormous success from audiences and critics alike as Sieglinde (Die Walküre) and Gutrune (Götterdämmerung) in the "RING"-staging from Christine Mielitz. Her many-sided repertoire ranges from Mozart`s Fiordiligi and First Lady to Puccini`s Turandot, Verdi`s Aida and Leonore (Trovatore), to Wagner`s Elisabeth (Tannhäuser), Elsa (Lohengrin), Brünnhilde (Götterdämmerung) and Isolde (Tristan und Isolde), Weber`s Agathe (Freischütz), Beethoven`s Fidelio-Leonore and Richard Strauss` Arabella, Salome, Ariadne, Diemut (Feuersnot) and Elektra.
Brigitte Wohlfarth worked from September 2010 until August 2015 as a professor for classical voice at the Hochschule der Künste (HKB) in Bern (Switzerland).
Since September 2015 she was appointed as a professor for classical voice at the Felix Mendelssohn Bartholdy Hochschule für Musik und Theater to Leipzig.
Since 2017, she has also been an accredited professor at Kalaidos University of Switzerland.