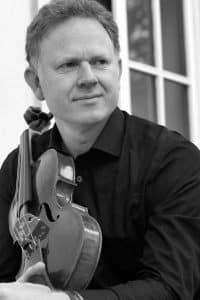 Boris Faust was born in Esslingen in 1970 and studied viola with Professor Matthias Buchholz in Cologne and Professor Kim Kashkashian in Freiburg.
After graduating from the Musikhochschule Freiburg in 1994, he studied with Professor Hatto Beyerle in the Soloklasse of the Musikhochschule in Hannover, where he obtained his concert diploma.
Boris Faust has won several international awards, including the Lionel Tertis Competition in England, the Vittorio Gui Competition in Italy and the Deutschen Industrie Competition in Germany.
As a soloist, Boris Faust has appeared in concerts and recordings with various orchestras, including the Deutsche Kammerphilharmonie in Bremen, the Heilbronn Chamber Orchestra, the Baden-Baden Philharmonic Orchestra and the Baden-Württemberg Youth Orchestra.
As a chamber musician, Boris Faust is in great demand and has performed at festivals such as Edinburgh Festival, Kronberg Festival, St. Gallen Festival with renowned soloists such as Boris Pergamenschikow, Andras Schiff, Kim Kashkashian, Rainer Kussmaul, Isabelle Faust, Jean-Guihen and many others.
Boris Faust has been principal violist of the Bremer Philharmoniker since 1997 and is regularly invited to perform as solo violist with the Hamburg Philharmonic Orchestra.
Boris Faust recorded all Arnold Schönberg's quartets with the Arnold Quartet of the Bremen Kammerphilharmonie. He is a member of the Ensemble OBLIGAT, with whom he recorded a CD with works by Wolfgang-Andreas Schulz in 2013.
In 2012, he collaborated with his sister Isabelle Faust and this musical collaboration resulted in a highly acclaimed CD with Carl Maria von Weber's piano quartet (Harmonia Mundi), which won a French "Diapason d' Or" and the "Prix de la critique allemande".
Since 2014, Boris Faust has been a professor at the Hochschule für Musik und Theater in Hamburg. He regularly gives master classes in Europe.