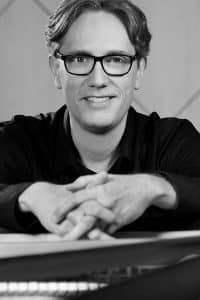 Axel Gremmelspacher performs as a soloist and chamber musician with a very versatile repertoire throughout Europe, Canada and Hong Kong in various settings, with cellist Lucas Fels, violist Julia Rebekka Adler, clarinetist Zoltán Kovács, pianists Irmela Roelcke and Tomislav Nedelkovic-Baynov, among others. His performances have been broadcast by Deutschlandradio, Bavarian Radio, Hessischer Rundfunk, Northern German Radio (NDR), Southwest Radio (SWR) and Radio Bremen.
He studied at music schools in Freiburg, Boston and Hanover with Robert Levin, James Avery and David Wilde as well as with John Perry in Toronto, supported by scholarships from the Rotary Foundation and the Canadian Government.
Master classes with Leon Fleisher, André Laplante, Marc Durand, Wolfram Christ and Jörg Widmann have had an important influence on his studies. He received a scholarship from the German Music Competition and was a member of the Federal Selection of Young Artist's Concerts.
After several years on the faculty of Musikhochschule Trossingen, Axel Gremmelspacher was appointed Professor of Piano at the Hochschule für Musik und Darstellende Kunst, Frankfurt, in 2010.
In December 2019 he was elected vice president of the HfMDK.