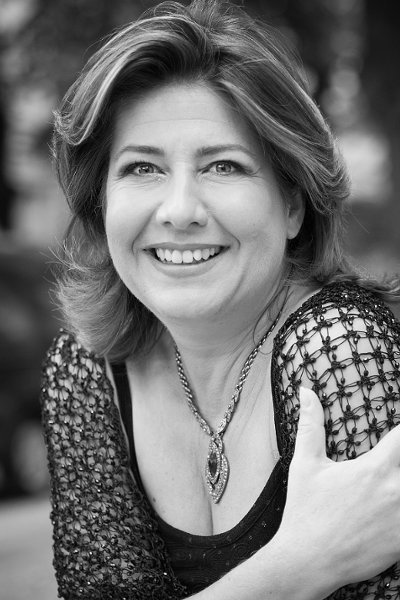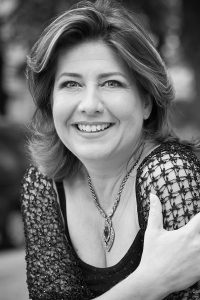 Anna Korondi was born 1969 in Budapest, Hungary. She pursues voice studies at Béla Bartók Conservatory of Music Budapest from 1987, and then subsequent studies at Vienna Conservatory as soloist with Prof. Margarete Bence and in Lied and oratorio with Prof. David Lutz from 1989. She graduated with honors in 1993.
She obtained then simultaneous engagement with the Österreichischer Rundfunk Choir Vienna with solo duties focusing on contemporary music from 1989 to 1993, and she became also ensemble member at Komische Oper Berlin until 1997 as well as at Bonn Opera until 1999.
Anna Korondi has been invited to perform at renowned festivals such as Salzburg Festival ("Die Fledermaus"), Schwetzingen Festival ("Figlio del selve"), Bayreuth Festival ("Parsifal" under the direction of Christoph Schlingensief), Budapest Wagner Festival ("Das Rheingold", Götterdämmerung"), Herrenchiemsee Festival ("Falstaff") and Vienna Schubert Festival ("Alfonso and Estrella"), as well as at numerous theaters such as Bavarian State Opera (including "The House of Bernarda Alba" under Zubin Mehta, "Arabella"), Theater Münster ("Der Rosenkavalier"),Turku Concert Hall ("Don Giovanni"), Komische Oper Berlin (eminent Mozart rolls) and Teatro di San Carlo in Naples ("Parsifal").
She is a regular guest at prominent European orchestras such as Chapelle Royal, Gewandhausorchester Leipzig, Westdeutscher Rundfunk Symphony Orchestra, Hessischer Rundfunk Symphony Orchestra, Concentus Musicus Vienna, Swedish Radio Symphony Orchestra and Royal Flemish Philharmonic amongst others.
She also performs diverse concerts and Lied performances throughout Europe, Asia and South America.
She collaborates with directors such as Christoph Schlingensief, Harry Kupfer, Christine Mielitz, Hans Neuenfels, Manfred Beilharz and Andreas Homoki, and with conductors Zubin Mehta, Pierre Boulez, Philippe Herreweghe, Helmut Rilling, Nicolaus Harnoncourt, Adam Fischer, Peter Schneider and Herbert Blomstedt amongst others.
Anna Korondi has been invited to perform on numerous radio, television and CD productions with labels Farao Classics ("Vineta – Ein Liederabend" by J. Brahms, "Requiem" by W.A. Mozart, "Matthäuspassion" by J.S. Bach), Hungaroton (first recording "Il Gelsomino" by G.F. Händel with solo cantatas, "Z. Kodály – Complete Edition for Voices and Piano"), Capriccio ("Athalia" by F. Mendelssohn Bartholdy, "Die letzten Dinge" by L. Spohr), BIS Records AB ("Forest of the Amazon") amongst others.
She was awarded 3rd prize at Erkel-Kodály Singing Competition Budapest in 1990, the International Prize at Mary Garden Singing Competition Aberdeen in 1991, 2nd prize at Grand Prix Franz Schubert Vienna in 1991 and winner of the ARD International Music Competition in 1996.
Anna Korondi is lecturer at master courses in Stavanger 2004, Sao Paulo 2007 and at Liszt School of Music Weimar in 2012.
Since 2007, she has been a lecturer at the Academy of Music Hanns Eisler of Berlin and since 2010 at the Hochschule für Musik Franz Liszt Weimar in Weimar.
Since winter semester 2013, she is also Professor for Voice at Berlin Hanns Eisler Hochschule für Musik, where he also leads a contemporary music course in addition to his vocal class.