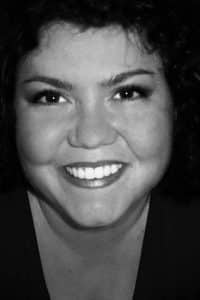 The celebrated young pianist, Ana Mirabela Dina, was born in 1976 in Craiova, Romania. She began piano lessons at the age of 4. Two years later she was introduced to the renowned pedagogues, Ioana Minei and Ana Pitis in Bucarest, where she studied until receiving her diploma. At the age of 8 she rose to instant acclaim by winning 1st Prize at the »Concorso Internazionale per Giovani Pianisti« in Stresa, Italy. She made her Romanian concert debut at age 10, playing Haydn's D-major Piano Concerto with the Craiova State Philharmonic Orchestra.
The fall of the Iron Curtain in 1989 created new performing opportunities, and Ana Mirabela Dina received invitations to play in France, Germany, Great Britain, and the U.S.A. She also built her reputation as an international competition prizewinner with notable honors in Italy. In 1994 she received her diploma in Bucharest, then resettled in Cologne, where she commenced studies with Prof. Karin Merle at the Cologne conservatory of music. In 1995 went on to win 1st Prize at
the »Waki Piano Competition« in Japan.
In a double-debut in Berlin in 1998, Ms. Dina played Mozart's Coronation Piano Concerto, K.537 with the Deutsche Symphonie Orchester in the famed Philharmonie, as well as Brahms' 2nd Piano Concerto at the Konzerthaus am Gendarmenmarkt. Performances of Bartok's 3rd Piano Concerto in Cologne, and Liszt's E-flat major Piano Concerto in England and the Channel Islands followed. In ever increasing demand as a chamber music partner, she received further musical guidance and inspiration from Dmitri Bashkirov, Fou Ts' Ong, Leon Fleisher, Christian Petrescu,
Alexander Lonquich, Karl-Heinz Kämmerling, David Wilde, Alexandre Rabinovitch, and the Alban Berg Quartet.
A sensational 1st Prize at the »Martha Argerich International Piano Competition« in Buenos Aires in 1999 was received with tremendous public acclaim, and catapulted her into the international spotlight. Performances in Argentina were followed by concerts with the Orchestre Symphonique de Montréal under Charles Dutoit, with the Bamberger Symphoniker, for the West German Radio
(WDR) as part of the series Master Pianists, a recital in the Herkulessaal in Munich, and performances at the piano festivals in La Roque d'Antheron, in France, Klavierfestival Ruhr in Germany, Musica Vitae-Växjö in Sweden, Torino Settembre Musica in Italy and Martha Argerich Festivals in Beppu/Japan, Buenos Aires and Lugano.
Ana Mirabela Dina has made numerous recordings for radio in Romania, Argentina, France, and Germany. Her recent recordings made in Buenos Aires are available on CD.
Passionate chamber-music interpreter, Mirabela Dina regularly performed together with musicians as Martha Argerich, Sergei Nakariakov, Lucia Hall, Hana Kotkova, Lyda Chen, Gabriela Montero, Mauricio Vallina, Pablo Saraví, Werner von Schnitzler, Latica Honda-Rosenberg, Rafael Christ, Clara Cernat, Thierry Huillet.
From 2007 until 2017 she was teaching piano at the Hochschule für Musik und Tanz in Cologne, Germany. Enthusiastic pedagogue, she was invited to hold Masterclasses in Barcelona, at the Utrecht Conservatorium, in Leuven and Wavre, Belgium, in Buenos Aires and La Plata – Argentina, Bucharest and Craiova – Romania. In October 2017 she was named professor for piano at the Hochschule für Musik Würzburg, Bavaria.