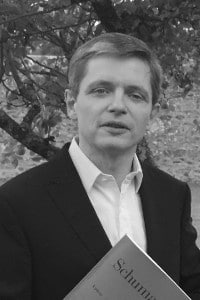 Alexandre Léger studied the piano with Françoise Thinat and then pursued his musical studies at  Paris CNSMD – Conservatoire National Supérieur de Musique et de Danse – with Gérard Fremy, Cyril Huvé, Christian Ivaldi and Alain Planès. At Paris CNSMD, he won the first piano and chamber music prize and also graduated succesfully with the Teaching diploma.
Alexandre Léger leads a multifaceted activity. He was invited to play with orchestra as recently in Eskisehir in Turkey, where he played the concerto KV 488 by Mozart under the conducting of Patrick Souillot.
In recital he played the works of the great repertoire including Bach's Goldberg Variations in numerous halls in France and abroad – "Beyond the fascinating digital control, is the lyricism of the collected passages key in this interpretation deeply inhabited" – La République du Centre.
He has a strong predilection for few composers including Déodat Séverac and contemporary music he practices very early in his career in its most original form as in the Sonatas and Interludes for prepared piano by John Cage or Stockhausen's Kontakte.
In chamber music he has played with the soloists of the "Orchestre de Bretagne", the Manfred string quartet, Dominique Miton, Laurent the Flecher, Roland Pidoux, Francis Duroy, Gionata Sgambaro…
He enjoys participating in collective adventures, lately he gives the complete Schubert sonatas together with pianists Hélène Couvert, Christie Julien, Rebecca Chaillot, Ferenc Vizi,  Sodi Braide and. Keen's vocal repertoire he accompanied many singers including Billy Jerome, Guy Fletcher, Rachel Guilloux…
Passionate about literature and poetry he collaborated for many years with the stage director Emmanuelle Cordoliani writing shows uncovering the relationship between literary and musical reading, their next project will see Lord Chandos Letter by Hugo von Hofmannsthal set deep in the music of Arnold Shönberg.
At the same time, Alexandre Léger  is passionate by teaching. Occupant of the CA – Certificat d'aptitude of piano, since 1997 he is a Professor at Rennes CRR – Conservatoire à rayonnement régional.