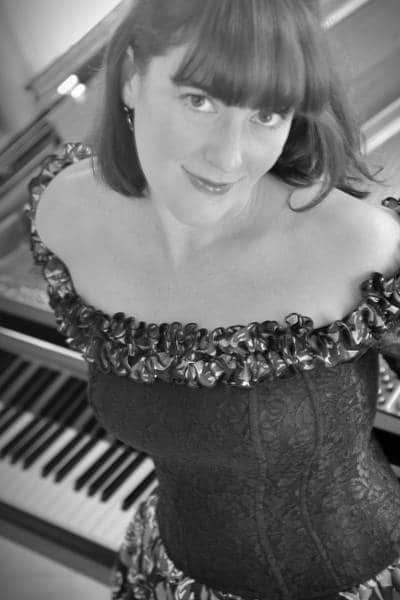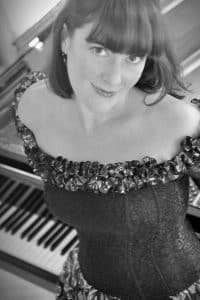 Alexandra Lescure is regularly invited to play in recital and as a soloist in France and abroad (United States, Brazil, Austria, Hungary, Romania, Moldova, Malta).
Since 2003, she has been invited to perform with the Bacau Philharmonic Orchestra in Romania as well as the Moldovan Chamber Orchestra and the Ribeiro Philharmonic Orchestra playing concertos of Bach, Haydn, Mozart, Beethoven, Chopin and Mendelssohn. She also played as a soloist with the Youth Orchestra of Provence, the Orchestra of the Conservatory of Aix-en-Provence, the Lyon Provence Regional Orchestra and the Toulouse Chamber Orchestra.
Alexandra Lescure played in duet with François Rossé, pianist composer and improviser. She is professor of piano at Cabriès.
She is co-artistic director and co-founder of the International Festival Les Nocturnes Sainte-Victoire. She also performs with the musicologist and composer Etienne Kippelen on stage, currently, she is the pianist of the Chopin show that runs since the end of 2016.
She has been studying with Michel Bourdoncle, Jacques Rouvier and Prisca Benoit as well as Bruno Rigutto in a preparation class for the International Competitions at Marseille Conservatory. She improved with pianist Bernard D'Ascoli "piano cantabile" class in 2002.
In addition, she followed the course of Prisca Benoit, Jacques Rouvier and Dang Thai Son. She participated in numerous master classes with such pianists as Konstantin Lifschitz, Dominique Merlet, Imogen Cooper, Carlos Roque Alsina, Jean-Marc Luisada and Liouba Timofeyeva …
She won the Queen Quilici gold trophies in 1999 and 2003 in the solo and contemporary music category at the "Enfants du Monde" competition. She is also a winner of the National Competition "Nuits Pianistiques" and finalist of the International Competition of the "International Pianistic Academy" in 2006 and 2008 in Aix en Provence.