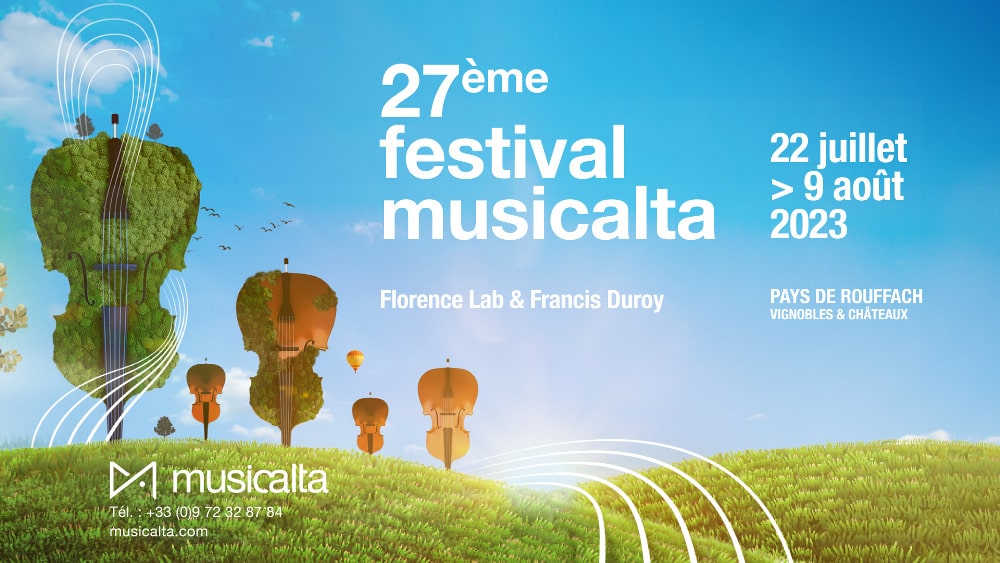 TRANSMISSION
27 years ago, we made this crazy bet to bring an ambitious music festival to life on the outside of the major urban centers. Tens of thousands of festival-goers have been welcomed since 1996 and thousands of students have also attended Musicalta Academy. Transmission is one of the essential core values of Musicalta and ; proof is, many of our students are among the major performers of today's concert stage.
Thus, we are particularly proud to invite on stage for this 27th season, some of our former students including Guillaume Bellom – pianist, Alban Lebrun – member of the Yako Quartet, as well as Pierre-Emmanuel Faye – pianist and of course Florent Mayet – conductor.
Chamber music is in the spotlight this year. The string quartet is widely represented. The renowned Sine Nomine Quartet opens the season with a program which, from Haydn to Barók, promises us a "subtle balance between expressiveness and depth" (Classica 2019) which only they have known since 1985, the year of their first success, at the french Evian international competition. The young and brilliant Yako Quartet will take over to offer us many musical journeys throughout the Festival. From the Lord of the Rings, with the orchestra and the choir of the Festival Academy, to the final American program, they will make a choice stopover around the Concert by Chausson and Mozart's Piano Quartet with Guillaume Bellom and Francis Duroy.
The piano is therefore also celebrated this season, not only in chamber music but also in recital. Jonas Vitaud in July, and then Jeung Beum Sohn in August will treat us to two programs that are different and completely unique.
After several attempts canceled by the health world crisis, Aïman Mussakhajayevawill join us from Kazakhstan to finally make her violin resonate in a very virtuoso program. Our Korean friends from Seoul will also offer us an evening of chamber music whose program and performers will be revealed to us at the last moment.
A place of choice is also given to singing: we are pleased to welcome Vincent le Texier who will perform two cycles of lieder with talented instrumentalists. A concert that will bring together Ancuza Aprodu, Maïté Louis, Felicia Terpitz, Vincent Hepp and Cristina Bellu around Mahler and Wolf.
After the Lord of the Rings with the Yako Quartet on July 28, the choir and the orchestra will perform the next day in MisaTango by Palmeri. Unique fresco that they will perform with pianist Pierre-Emmanuel Faye and accordionist Andrzej Rytwinski.
The season will end with the Academy's choir and orchestra around a no-less-ambitious program conducted by conductor Luping Dong, including the Mozart concerto with student flutist-soloists, Britten and Rheinberger's Stabat Mater.
We thank our devoted student-artists and all our renowned musician friends on the international scale for their commitment to Musicalta. And we express our gratitude to the loyal partners who support us, to the volunteers who accompany us and to the public who have always encouraged us and who have never stopped following us.
Looking forward to welcoming you, we thank you for your renewed trust,
Florence Lab & Francis Duroy
"Scènes ouvertes" of the Festival
Carte blanche to the students of the festival academy
The Festival Off, Scènes ouvertes, is more than 50 concerts, musical marathons, recitals: chamber music, orchestra and choir on a whole territory: Churches and concert halls of the Country of Rouffach, Vignobles and Châteaux.
27/07/2023 | 11:00
SALLE DES MARRONNIERS EGUISHEIM
28/07/2023 | 17:00
EGLISE PFAFFENHEIM
28/07/2023 & 29/07/2023 | 9:00 to 19:00
EGLISE & ATRIUM EPLEFPA & MÉDIATHÈQUE ROUFFACH
29/07/2023 | 15:00
CENTRE HOSPITALIER DE ROUFFACH PAVILLON 17/2
08/08/2023 | 17:00
EGLISE DE EGUISHEIM
09/08/2023 | 17:00
EGLISE DE GUEBERSCHWIHR
08/08/2023 & 09/08/2023 | 9:00 to 19:00
EGLISE & ATRIUM EPLEFPA & MÉDIATHÈQUE ROUFFACH