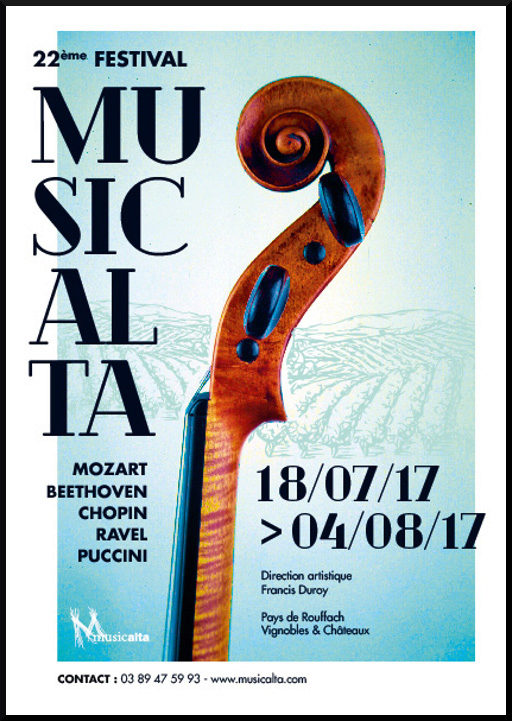 Edito - Festival Musicalta 2017
First of all, a big thank you to the public, partners, musicians and friends who have accompanied and supported Musicalta for more than two decades.
It is thanks to our combined efforts that this beautiful project was born 22 years ago and was able to flourish within the magnificent cultural and natural heritage of the Rouffach region.
For this 22nd season, it is a dreamlike journey that we are taking – the dawn of dreams – a time of promise and freedom "…where the music…becomes the very feeling that inspired the emotion."
This season leads us towards a wider horizon with, alongside works of the great repertoire, the (re)discovery of composers such as Gérard Scronx – Belgian born in 1594 – or Emil Sjören – Swedish born in 1853 – without forgetting the Japanese composer Hina Sakamoto whose French premiere, scheduled for August 1st at the Church of Rouffach, brilliantly illustrates her time; ours.
Chamber music is in the spotlight as it is every summer, and this 2017 Festival gives it pride of place with two ballads that will take us from strings to brass.
A dream that will come to an end at the end of an anthology of selected pieces for horn, trumpet, trombone and piano on August 4 at the Church of Rouffach, a closing concert with warm resonances whose echo will carry us into 2018.
May this festival time be once again the time of our shared promises and our awakened dreams.
Francis Duroy