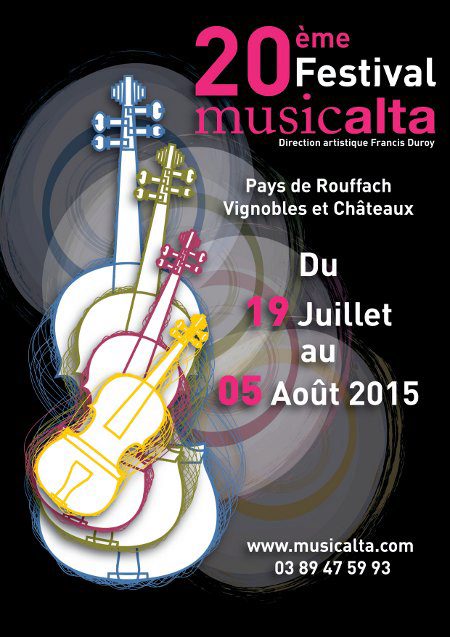 Edito - Festival Musicalta 2015
Twentieth Anniversary – A look in the rear view mirror to measure time.
Twenty years – A good age – An age of promises – First of all, those of a new season for which once again, partners, local actors, volunteers, artists… unite their efforts to offer you, music lovers, the best in a territory that looks like a showcase for the duration of a festival.
Rouffach en scène – Scènes ouvertes – Two variations but the same path that mark out three centuries of living music served by the best performers of the classical music scene.
An organ recital, an unavoidable appointment with the rich heritage of Rouffach and the magnificent instrument of the Church of Notre Dame, but also, Jacques Brel or Giacomo Puccini to the rhythm of the tango; the cellist Edgar Moreau, Victoire de la musique 2015 – category instrumental soloist; the essentials of chamber music, Schubert, Brahms, Hummel. …; Luigi Santo in a virtuoso trumpet concert or the conviviality of the Open Stages and the Rendez-vous de l'Atrium, are all musical moments that we invite you to share.
Musicalta's team and all those who participated in the realization of this twentieth season wish you a very good festival.
Francis Duroy
[logo-carousel id="festival-pub"]