The French Astronaut Thomas Pesquet is back on the ISS since April 23rd and already shares pictures from the stars with us on Twitter, like the one of Paris a few days ago. After his first journey that made him the tenth French person and the first saxophonist ever in space, he went back to the ISS as Captain. But is he going to be a zero-gravity saxophonist again ?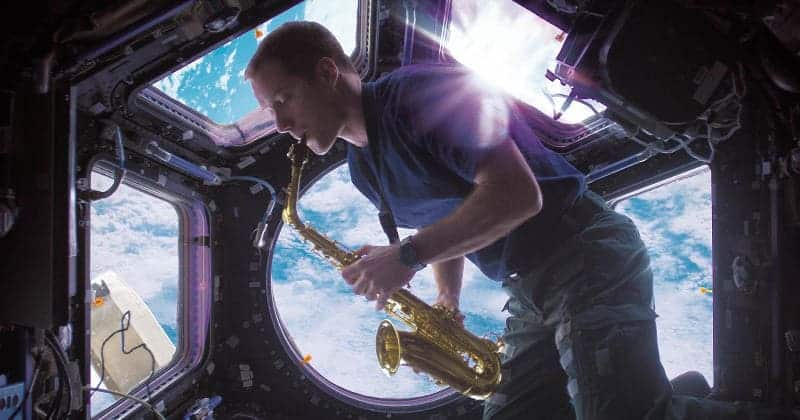 Picture from the documentary 16 levers de soleilby Pierre-Emmanuel Le Goff, with Thomas Pesquet, 2018
Before his first journey in 2016, Thomas Pesquet explains that music is part of his life. Unfortunately, the instrument was too heavy to be brought on the space station, as NASA puts limits on astronaut's possessions' weight. No worry ! For his birthday, on February 27, NASA and Thomas Pesquet's family secretly introduced his present on the cargo spacecraft: a saxophone !
Built by Henri Selmer Paris, this saxophone was tailor-made for the astronaut. Because of the weight limitation of 1,5 kg, the instrument ended up smaller than normal, as saxophones tend to weigh 2,4 kg. Selmer is a wind instruments specialist brand founded in 1885, which produces 22 000 instruments a year, mainly saxophones.
As soon as he received his gift, Thomas Pesquet was able to enjoy musical breaks at the end of his shifts and during his days off. He even made a video where he plays his favorite instrument from the stars. Who said there is no sound in space ? You need proof ?
To celebrate the astronaut, Philippe Geiss, world famous saxophonist and teacher at Musicalta in 2012, composed Galasax in 2016. And Pierre-Emmanuel Le Goff releases the documentary 16 levers de soleil, in 2018. 16 levers de soleil, in 2018.
You wish you could play in space too ? Be warned, there are a few complications, as Thomas Pesquet explained to France Info. In zero-gravity, he couldn't use the saxophone's weight to play, because as soon as he pressed a key the instrument would start floating ! Also saliva did not flow and would block the saxophone's sound.
One can wonder if Thomas Pesquet can hope to find once again his instrument in the space station. Can a surprise really be repeated twice ? Maybe not, especially since his birthday already happened this year. Too bad, less music for aliens !