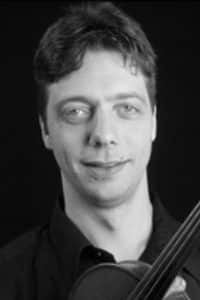 Disciple of Véronique Bogaerts and Thérèse-Marie Gilissen at the Royal Conservatory of Brussels and at the Queen Elizabeth Music Chapel.
Attracted to chamber music very early on, he became the violist of the Kryptos quartet with which he received lessons from the Artemis and Alban Berg quartets, among others, and with which he won second prize in the Shostakovich quartet competition in Moscow; followed by intense activity as a chamber musician in most of the major ensembles in Belgium, such as Oxalys, Het Collectief, Ensemble Mendelssohn, Ensemble Franck, Tetra Lyre…
On the strength of these multiple and varied experiences, he became a founding member of the Taurus quartet. His particular interest in contemporary music led him to participate in the International Ensemble Modern Academy, following which he was regularly invited by Ensemble Modern, Sturm und Klang, Manufaktur für Aktuelle Musik, Nadar, Spectra and many other specialized ensembles.
Alto solo invité à l'Orchestre Philharmonique Royal de Liège, l'Opéra Royal de Wallonie, au Théâtre Royal de La Monnaie, au Symphonique des Flandres, Vincent Hepp est également invité à jouer avec de nombreux orchestres de chambre, tels le Brussels Chamber Orchestra, les Brussels Virtuosi, l'Orchestre de Chambre de Liège, Casco Phil, Ensemble Piacevole…
Vincent Hepp is a professor at the Royal Conservatory of Brussels.