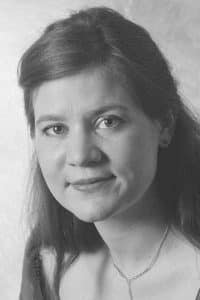 Soprano colorature
From an early age, Svea Schildknecht received a broad musical education in singing, piano, violin, dulcian, conducting, music theory. She sang in many choirs and played in orchestras and ensembles for Ancient Music.
As an actress, she was a member of the drama group "Theaterclub Langgarten" Heidelberg. Later on, she attended pantomime classes in Freiburg.
In Freiburg im Breisgau, her singing teacher was Friederike Dästner-Schaarschmidt. She studied lied with Ramón Walter and Hans-Peter Müller.
She attended opera classes with Gerd Heinz, and private studies with Ingeborg Danz and Beata Heuer-Christen.
At Schola Cantorum Basiliensis Svea Schildknecht attended an Advanced Vocal Ensemble Class with Anthony Rooley and Evelyn Tubb. She also took masterclasses with Ingrid Figur, Edith Wiens, Christoph Prégardien, Charles Spencer, Kurt Widmer, Elisabeth Glauser, the International Händel Academy Karlsruhe, and many more.
Svea Schildknecht has a wealth of experience as a vocal coach.
She has been teaching students of all ages for over twenty years, with an emphasis on preparation for vocal studies at the music academy.
Svea Schildknecht is very experienced with students ranging in age from 16 to 26. Many of her students have won competitions and have been successfully accepted by her for entrance exams to music conservatories.
As a concert singer she focuses on lied singing, baroque music, contemporary music, modern musical theater, and ensemble singing, this is the area in which she has the most experience.
Svea Schildknecht has been part of a jury at the youth competition "Jugend musiziert".
She has given master classes at the Kolping-Bildungsstätte Coesfeld and has led two seminars at the Evangelische Tagungsstätte Hofgeismar focusing on the vocal works of Arnold Schönberg and Erik Satie.
In addition to her own lively activities as a singer, Svea Schildknecht teaches at the Freiburg Musikhochschule, in the girls' choir of the Freiburg Cathedral.