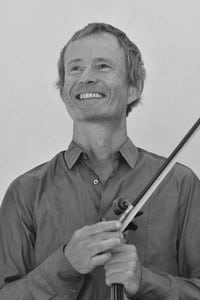 Coming from a family of musicians, Stefan Muhmenthaler studied the violin with Ulrich Lehmann and the piano with Rosemarie Stucki-Balmer at the Bern Conservatory. In 1976, he simultaneously won first prize for violin and second prize for piano at the Jeunesses Musicales Suisses competition.
He continued his training in New York under the aegis of Itzhak Perlman and posted a master's degree there as well as the prestigious Ludus Award. He then perfected his skills with Vartan Manoogian, Nicolas Chumachenko and with the Tokyo String Quartet.
Stefan Muhmenthaler discovered his interest in solo violin work very early on. At the age of eighteen, he was appointed principal violinist of the World Orchestra of Musical Youth. A position he would then occupy in the United States with the Wisconsin Chamber Orchestra and in Germany with the Württemberg Chamber Orchestra.
In 1990, Armin Jordan invited him as first solo violin to the Orchester de la Suisse Romande, where he played for ten years. Subsequently, Christian Zacharias hired him as first solo violin of the Lausanne Chamber Orchestra. A position he will also hold at the Orchester de Chambre Fribourgeois until 2020.
At the same time, he pursued a career as a soloist and chamber musician, playing under the direction of conductors such as Ferdinand Leitner, Denis Russel Davis, Shlomo Mintz, Jörg Färber, Armin Jordan. Ignaz Lachner's recording of the six trios, the world premiere, received enthusiastic reviews.
Stefan Muhmenthaler is committed to cultivating a balance between pedagogy, chamber music and orchestral playing. He is a violin teacher at the Haute École de Musique de Genève, Neuchâtel site between 1999 and 2022.