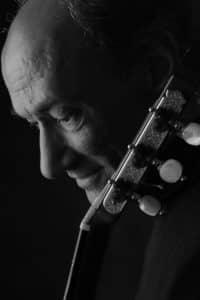 Roberto Aussel is an extraordinary musician and an exceptional interpreter. Born in 1954 in La Plata (Argentina), he began playing the guitar as of the age of seven.
After studying with master Jorge Martinez Zarate, his principal teacher, Aussel was awarded first prizes at some of the most prestigious competitions in the world, including the international guitar competitions of Radio France, Porto Alegre (Brazil) and Alirio Diaz in Caracas (Venezuela).
Since then, Aussel's renown as an international concert artist has continued to spread, and he appears regularly in Europe, South America and especially since 1990, the United States (Boston, Los Angeles, San Fransisco, Dallas, New York).
Since 1995, Aussel teaches at the Musikhochschule of Köln (Germany) and manages brilliantly to combine this demanding task with an active world-wide career every year.
His repertoire ranges from the Baroque to contemporary music and includes folk and popular pieces from the various Latin American countries.​
Keenly interested in 20th century music, he has collaborated with several composers, many of whom have written for him: Marius Constant, Marlos Nobre, François Rossé, Norbert Leclerc, José Luis Campana, Francis Schwartz, Juan María Solare, Francis Kleynjans, Bob Wander, Carlos Grätzer, Edmundo Vasquez, Pascale Jakubowski.
In 1981, Astor Piazzolla wrote his well-known Five Pieces for Guitar to Aussel, his first compositions for this instrument.
In addition to performing and teaching, since 1983 Roberto Aussel has been in charge of a collection of guitar music for the Paris publisher Editions Henry Lemoine.
In 1999, Aussel won the prestigious prize of "KONEX DE PLATINO" offered by the Konex foundation of Buenos Aires (Argentina).
In 2016, Roberto received the Honorary Award Jose Tomas from the Petrer Guitar Festival ( Spain).