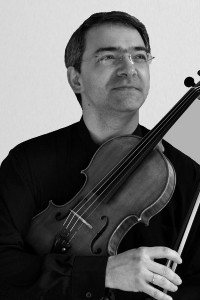 Roberto Aronica studied with Pascal Robault (CRR Reims), Pierre-Henri Xuereb (CRD Gennevilliers) and Tasso Adamapoulos (CRR de Paris) and obtains successfully his First viola Prizes in these 3 Conservatories.
He won the 1st prize of the 7th String Competition of Epernay (France), and was admitted at Paris CNSMD – Superior National Conservatory of Music and Dance.
Passionate about chamber music, he enjoys the teaching of Peter Penassou and also the improvement string quartet courses with Pro Quartet (also Lasalle Quartet, Amadeus and Alban Berg Quartetts).
In 1995, he played in the European Chamber Orchestra which tours led him through Europe and Central America.
Eager to play new repertories, he created "Osmosis" of Graciane Finzi and "Six musical moments" composed by Thomas Schuttenhelm with guitarist Yves Clement, both of them being the dedicatees of these two pieces.
Roberto Aronica performed with the Opera Orchestra of Reims, the Orchestra "The Centuries", the Orchestra of Picardie, Viva Ensemble, Ensemble Opus 62, The Connivences Sonores…
Holder of National Professor Diploma, Roberto Aronica is professor of viola at the National Conservatory – CRR in Reims.