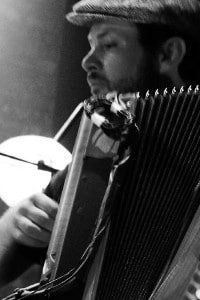 Born in 1972, Olivier Urbano began music in 1980 by practising popular accordion. He will go on to become guitarist and singer in several different rock bands.
In 1990, he started his classical music studies in Montpellier at the conservatory and College of Musicology. He continued succesfully at Lyon CNSMD – Conservatoire National Supérieur de Musique de Lyon.
He obtained numerous degrees ranging from the "licence de musicologie" (bachelor of musicology) to the DNESM – Diplôme National d'Etudes Supérieures Musicales (the national diploma in higher musical studies) in numerous specialised area such as music writing under the instruction of Loïc Mallié, musical analysis in the class of Gérard Gastinel and orchestration, taught by Jean-François Zygel, whereby he validated this degree with the mention of 'outstanding' awarded unanimously by the jury at the Lyon CNSMD.
Olivier Urbano also obtained the Certificate of Aptitude in accordion teaching issued by the french Ministry of Culture.
Olivier Urbano was also winner of several Prizes ; the André Messager Award (Athanor Association, Bourges) and Prizes at International competitions : Castelfiardo (Italy) and Klingenthal (Germany).
His musical interpretation paved the way for him on to play with violinist Marie-Annick Nicolas, pianist Bruno Fontaine and trumpeter Thierry Caens, and also to collaborate under the direction of such diverse personalities as Pierre Cao and Maurice Jarre. He has also been an invited guest at such events as the Biennale of Venezia, the Transmusicales of Rennes in France, and the Paléo Festival in Switzerland.
Olivier Urbano recorded a disc in duet with violin as « Duo Hélios » which is the fruit of a large amalgamate of his know-how : chamber music, transcription, original compositions , which is critically acclaimed.
The musical arrangements of Olivier Urbano lead him to work in the milieu of the « chanson française », a style of French popular music, with such young artists as Barcella (Champion of France in the 2007 slam competition, Laureate « Tout »for music in 2007, Laureate « Nouvelle Scène' » (new scene) Mosaïk 2006, JT (young talent) of television network France 2) with whom he graces the stages with modern-day music alongside such artists as Lisa Portelli.
As a composer, Olivier Urbano has been solicited to work with symphonic orchestras such as « Orchestre de Dijon/Bourgogne » (Burgundy) and the Opera de Rouen (Normandy).
His solo works and chamber music have made the their world tour : "Trilles et Volutes" is performed in Peking, Warsaw and Moscow… and "Bethléem Dolois" an arrangement for chamber music is played in Scandinavia and New Zealand.
The combination of his talents – composer, arranger, accordionist, bandoneonist and by the use of an assortment of electronic devices – is concentrated in the group Zig Zaton which incorporates the elegance of classical and contemporary music into modern-day amplified style.
Olivier Urbano is also passionate about pedagogy ; he is professor of accordion, composing and arranging at the « Pôle d'Enseignement Supérieur de la Musique de Bourgogne » (Dijon, Burgundy), at the Musicology UER of the « Université des Arts et Lettres » and also at the Dijon CRR – Conservatoire à Rayonnement Régional.
Moreover, he is developing a method of initiation to the creation for all instruments and all levels based on an acquisition of notions of music writing and improvisation. His method has already appealed to several music-teaching establishments, such as the Académie de Musique de Monaco, Dijon Conservatory and Festival "Les Inouïes" (Arras, France).