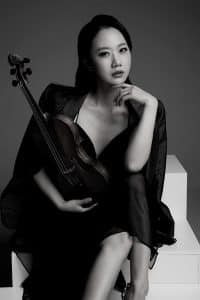 "Elle joue avec sincérité et passion" -Philip Setzer, Emerson Quartet
"La performance reflète la profondeur de l'interprétation, la musicalité … nécessaire pour se distinguer dans le monde de la performance professionnelle" -Barry Alexander & Cosmo Buono, Fondation ABI
La violoniste née à New York, Naria Kim, est une artiste artiste internationale basée en Corée.
Naria Kim a fait ses débuts en tant que soliste avec l'Orchestre Philharmonique de Séoul en tant que lauréate du Seoul Philharmonic Orchestra Soloist Audition à l'âge de 12 ans. Elle obtient le Premier prix du Concours international de cordes Alexander & Buono et lauréate du concours International de violon Eurasia, du concours International d'Osaka et du Concours de musique Kumho Young Artist, pour n'en nommer que quelques-uns.
Elle se produit en récital solo et en soliste avec des orchestres tels que l'orchestre philharmonique de Sofia, l'Orchestre philharmonique de Séoul, l'Orchestre symphonique militaire national de Corée, dans des lieux tels que le Carnegie Weill Hall, le New York Symphony Space Hall, le Bulgaria Concert Hall, le Seoul Arts Center, le Centre culturel de Chicago, le Hong Kong Lee Hysan Concert Hall…
Elle a également été invitée à se produire en tant que soliste dans de nombreux festivals internationaux, dont notamment le Young Artist Concert du festival international de musique Elan (Vermont), la Rising Star Series du Great Mountains International Music Festival (KOR), le concert de gala du festival International Canetti (Italie), l'Académie de Musique de Lausanne (Suisse), la Fondation Sorodha (Anvers, Belgique), la 30e saison de récitals de la série de concerts Rabi-Warner à la NY Columbia University, les saisons 2015 et 2017 du Mémorial de Dame Myra Hess à Chicago (WFMT 98.7 radio-live), l'Iowa Luther College et l'Université chinoise de Hong Kong.
De plus, Naria Kim a joué en récital 'The Fantasy' et 'Classics and the Blue Note' au Centre des arts de Séoul et elle est lauréate d'une bourse du Conseil coréen des arts en 2018. Récemment, Naria Kim a joué le cycle complet des Sonates pour violon de Beethoven aux Etats-unis et en Corée notamment à l'Iowa Luther College, à l'Université de Chicago Roosevelt et au Centre des Arts de Séoul pour la saison 2019/2020.
Naria Kim est diplômée de l'Université Nationale des arts de Corée où elle a participé au programme d'admission précoce de la Yale School of Music pour les surdoués. Elle obtient ensuite une maîtrise en musique et diplôme d'artiste à l'université Hyo Kang et Stony Brook puis un doctorat en musique et arts avec Philip Setzer.
Parallèlement à ses activités de concertiste, Naria Kim consacre du temps aux étudiants et à la pédagogie : elle a été professeure de violon à l'université Stony Brook, au Naugatuck Valley Community College et également chargée de cours en violon à l'université Chung-Ang et à la Korea National University of Arts en Corée.
En tant qu'artiste enseignante internationale, elle a été invitée aux Master Classes et a été membre du corps professoral de nombreux festivals musicaux internationaux, dont le Korea Soriter Arts Center, l'Euro Music Academy-Korea 2017/2019, l'Académie des arts du Festival d'été de Crémone en Italie, le Iowa Luther College et l'Université chinoise de Hong Kong.
Actuellement, elle est professeure auxiliaire et membre de la faculté de violon à l'université Gyeongan niveau Graduate et à l'université Chung-Ang, directrice musicale de l'organisation à but non lucratif EnoB, fondatrice du Sound Stage Ensemble Group et jury active de nombreux concours internationaux et nationaux.