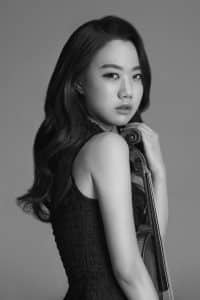 "She performs with sincerity and passion" -Philip Setzer, Emerson Quartet
"Performance reflects the depth of interpretation, musicality….needed to distinguish oneself in the world of professional performance" -Barry Alexander & Cosmo Buono, ABI Foundation
New York born violinist Naria Kim is a Korea based International Artist Teacher.
Naria Kim made her soloist debut performing with the Seoul Philharmonic Orchestra as a winner of the Seoul Philharmonic Orchestra Soloist Audition at the age of twelve. She won the 1st prize as a winner at the Alexander & Buono International String Competition and winner of the Eurasia International Violin Competition, Osaka International Music Competition and Kumho Young Artist Audition to name a few.
Her solo recitals and concert highlights include performances with the Bulgaria Sofia Philharmonic Orchestra, Seoul Philharmonic Orchestra, Korean National Military Symphony Orchestra in such prestigious halls as Carnegie Weill Hall, NY Symphony Space Hall, Bulgaria Concert Hall, Seoul Arts Center, Chicago Cultural Center and the Hong Kong Lee Hysan Concert Hall to name a few.
She has also been invited to perform as soloist at numerous international festivals including the Young Artist Concert of the Elan International Music Festival (Vermont), the Rising Star Series at the Great Mountains International Music Festival (KOR), the Gala Concert at the Canetti International Music Festival (Italy), L'Academie de Musique de Lausanne Duo Concert (Swiss), Sorodha Foundation Recital (Antwerp, Belgium), the 30th season of the Rabi-Warner Concert Series Recital at the NY Columbia University, Chicago Dame Myra Hess Memorial Concert Series Recital 2015/2017 (WFMT 98.7 radio-live). She was Guest Artist Recital at Iowa Luther College and gave Recital and Master Class Series at the Chinese University of Hong Kong.
Also, Naria Kim Violin gave recitals playing 'the Fantasy' and 'Classics and the Blue Note' at the Seoul Arts Center and she was awarded by the Arts Council Korea Funding Grants in 2018.
Recently, Naria Kim has performed the complete Beethoven Violin Sonata Cycle at the Iowa Luther College, Chicago Roosevelt University and Seoul Arts Center for the 2019/2020 season.
Naria Kim is a graduate of the Korea National University of Arts through the early entrance program for gifted, Yale School of Music. She also obtain a Master of Music and Artist Diploma with Hyo Kang and Stony Brook University and became Doctor of Musical of Arts with Philip Setzer on full scholarship, stipend and teaching Assistantship.
Naria Kim has served as Violin Faculty at the Stony Brook University, Naugatuck Valley Community College and Lecturer of Violin at Chung-Ang University and Korea National University of Arts in Korea. Currently, she is a Lecturer of Violin at Chung-Ang University and an active judge for numerous international and national competitions.
As an international teaching artist, she has been invited for Master Classes and faculty member of International Music Festivals including the Korea Soriter Arts Center, Euro Music Academy-Korea 2017/2019, Italy Cremona Summer Festival-International Academy of Arts, Iowa Luther College Master Class and the Chinese University of Hong Kong Master Class to name a few.