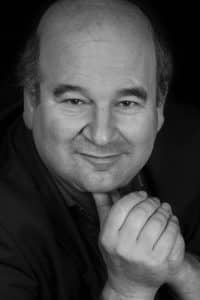 Born in Paris, Michel Benhaïem studied the piano with G.Mounier and J-C. Pennetier, while pursuing studies at the Sorbonne (Master's degree in Philosophy). Graduate of the Paris Conservatoire, he is a laureate of the Menuhin Foundation and the International Piano Competition in Barcelona.
In 1982, he met G.Sebök and went to study with him for three years as an "Artist diploma student" at Indiana University (Bloomington, USA), having received scholarships from the Fulbright Foundation and the French Government.
He has been taking part in numerous recordings and concerts. He has performed with the Ensemble Erwartung (several records with works by Milhaud and Villa-Lobos), and the Ensemble Entretemps. He regularly performs for Radio-France, and produces broadcasts for France-Musique Radio about piano pieces ("Brief pieces for piano") and great pianists (Wilhelm Kempff, György Sebök).
Among his chamber music partners : David Guerrier, Daniel Arrignon, Nicolas Moutier, Antoine Tamestit, Michel Michalakakos, Joël Soultanian, Henri Demarquette, Stephane Tran Ngoc, Clara Novakova, David Selig, Laurent Cabasso, Jérôme Granjon, Dana Ciocarlie, Fuminori Tanada, Myriam Bonnin, Max Bonnay, Alain Buet, Marie Kobayashi…. He regularly takes part in chamber music concerts of the l'Orchestre de chambre de Paris.
As a soloist, Michel Benhaïem has played with orchestras such as Bucharest Georges Enesco Philarmonia, Orchestre Symphonique Paris-Rive Droite and Sinfonietta de Picardie. He has performed and given master-classes in Germany, Holland, Luxembourg, Portugal, Italy, Israël, Palestine, recently in French Polynesia, USA and Japan.
He is the artistic director of the " Musicales au Fival", a chamber music festival in Ardèche.
Michel Benhaïem is now professor at Strasbourg Conservatory and Superior Music Academy (piano and chamber-music).