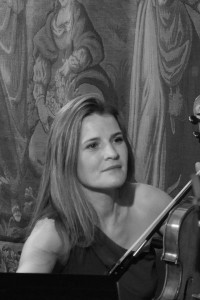 Born into a family of musicians, Maud Gastinel is moving quickly to study music.
At the age of six, she began studying violin and piano at Lyon National Conservatory. At the age of 14, she gave her first concert with orchestra.
After getting her violin gold medal , she continued her studies at Paris Superior Conservatory with S. Gessner.
Then, also attracted by viola, she graduated in June 1998, in Lyon Superior Conservatory – CNSMD with the National Higher Studies Diploma with honors.
After postgraduate training in " solo " instrument and chamber music (sonata training), in April 2000, she won the second prize at the International Viola Competition J. Rogister in Verviers, Belgium.
Member of the "Accord Parfait " Quartett and also member of the Paris Lamoureux Orchestra, Maud Gastinel is regularly invited to play concerts of chamber music and orchestra, especially with the Paris "Orchestre National de France" and the "Orchestre de l'Opéra de Paris".
She was invited in Sofia (Bulgaria) at the International Music Festival to perform " Harold in Italy " from Berlioz. She has performed numerous concerti as a soloist : the Concerto from Hindemith: "Der Schwanendreher " under the direction of Peter CSABA in Lyon and the " Sinfonia Concertante " by Mozart, the Concerto in D Major Hoffmeister, the "Fantasy" of Hummel… In April 2012, she created the Concerto for viola and orchestra from Gérard Gastinel.
Maud Gastinel is viola professor at Meudon Conservatory and Ville d'Avray Conservatory.