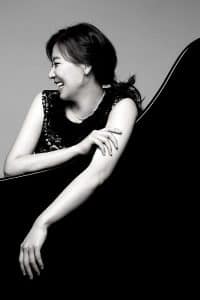 Praised as "a part of the wave of new pianists with an ability to act the part of a star" (Suburban Chicago News), pianist Kyung-Ah Kim has won numerous competition awards including the USA Beethoven Competition, the Leos Janacek International Competition, the Sorantin International Competition, the St. Charles International Competition and many others. Ever since Ms. Kim was selected as the 2013 artist in Seoul Arts Center, she has been performing extensively.
Kyung-Ah Kim has toured the United States, Europe, and Asia playing numerous recitals and teaching masterclasses at prestigious festivals.
She has collaborated with leading conductors such as John Williams, James Orent, Petr Atrichter and has performed with orchestras including Boston Pops Orchestra, Brno Philharmonic Orchestra, PBA Symphony Orchestra, NEC Philharmonic Orchestra, BU Symphony Orchestra, Seoul Philharmonic Orchestra, Seoul Symphony Orchestra, Busan Philharmonic Orchestra, Kyunggi Philharmonic Orchestra and Millennium Symphony Orchestra among others.
She received her Bachelor of Music, Master of Music and Graduate Diploma from the New England Conservatory, and her DMA from Boston University where she studied with Russell Sherman, Wha Kyung Byun, and Boaz Sharon.
Kyung-Ah Kim is currently teaching at Seoul National University.