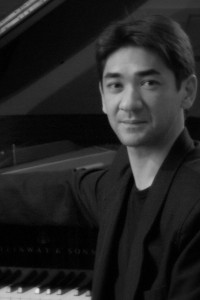 Born in Toulouse into a family of musicians, Julien Médous first studied at Toulouse National Conservatory and then entered at Paris CNSMD – National Superior Conservatory where he studied with Aldo Ciccolini, Bruno Rigutto, Gery Moutier, Christian Ivaldi, Jean-François Heisser, Michel Strauss… There, he obtained a First prize in piano and also a First prize unanimously in chamber music.
Winner at the International Piano Competition " Maria Canals" in Barcelona, Julien Médous obtained the First prize at the International Piano Competition in San Sebastian ( Spain – 2000).
Julien Médous regularly plays concert with such artists as Nicolas Baldeyrou (clarinet), Karine Ato (violin), Daniel Lassalle (trombone), Jean Geoffroy (percussion) , Saténik Khourdoian (violin) …
In addition to his concert activities, Julian Médous dedicated to teaching piano. He is piano professor at the Regional Conservatory of Reims since 2001.